15 Most Popular IoT Products and Devices in 2021

The most popular Internet of Things (IoT) devices range from wearable tech to exotic home appliances. Our advanced AI algorithms monitor and protect over 1 billion devices, which requires us to precisely identify the types, models and configurations of active devices. These device intelligence algorithms are the reason behind us having some of the most precise data about the real popularity of IoT products. We have released our insights about the overall connected device ecosystem in our recent report, which goes beyond IoT, and includes mobile devices, computers, gaming devices, and many other categories.
What Is Device Intelligence?
The percentages provided here represent the popularity of IoT products among all connected devices, including smart phones and computers, to give readers a clearer view of the real scale IoT devices have in the online consumer ecosystem. The two dominant device categories – computers and smart phones – collectively make up around 62% of all connected devices.
What Are the Most Popular IoT Devices?
IoT goes beyond popular things like smart TVs, wearable devices or smart home appliances. Today, there are dozens of categories of connected devices ranging from simple sensors to complex or unusual products.
1. Smart watches are the most popular IoT devices
The Internet went from the computer age to the mobile age, but there are some signals that we have another rapidly growing connected device segment — wearables, notably smart watches. Our real-world device data clearly shows that smart watches are third among all connected devices, trailing only smart phones and computers.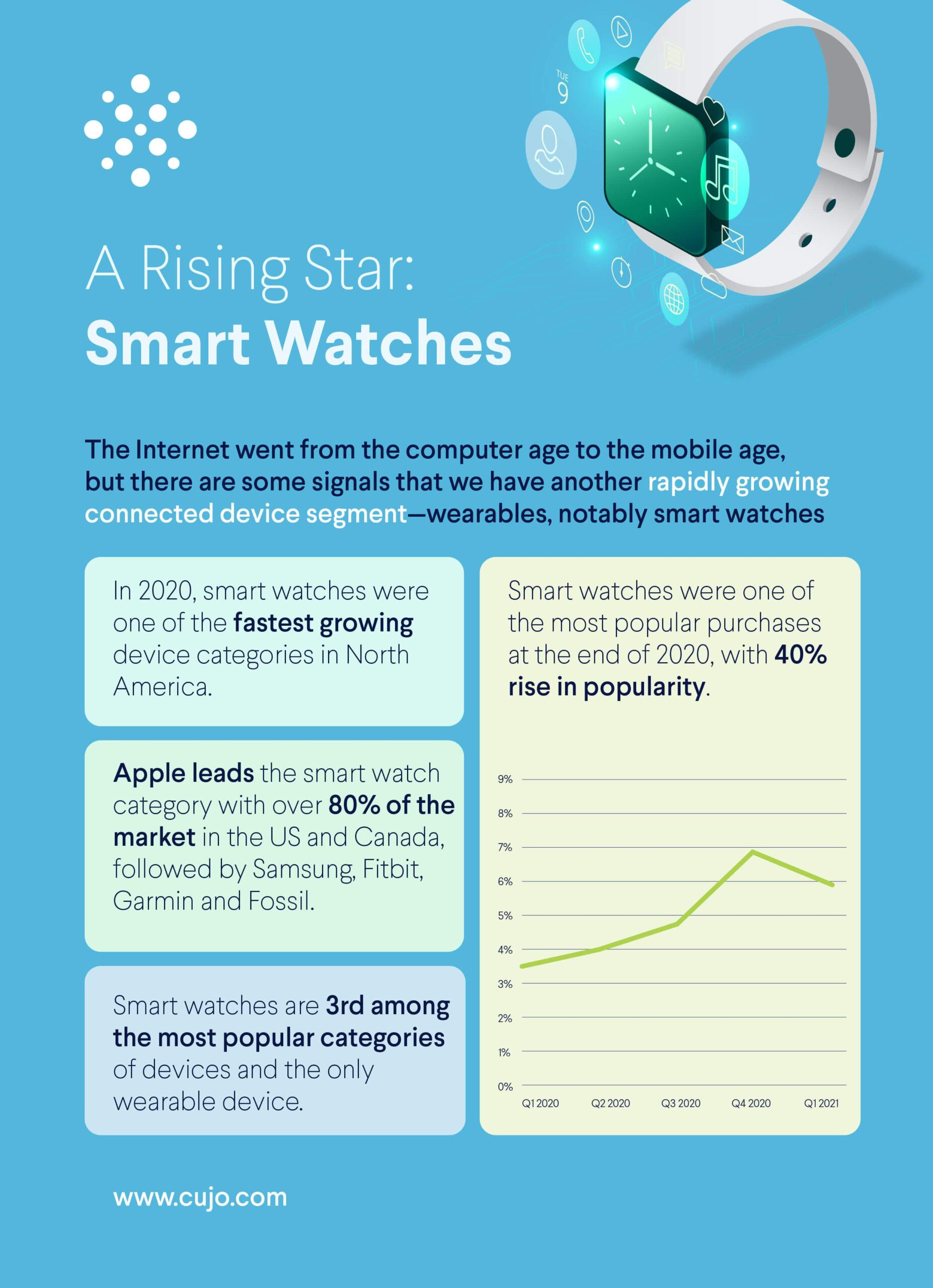 Smart watches have been around for many years, yet these devices have seen much slower adoption rates due to battery size and overall functionality. Nevertheless, in 2020-2021 smart watches are some of the fastest growing IoT devices in North America, and their popularity recently experienced several spikes.
Get the Full Picture
CUJO AI's latest report covers real-world data about 1.7 billion devices on 50 million home networks.
2. Gaming consoles
Gaming consoles experienced two surges in popularity in the last 15 months: The first one happened when the quarantine started and a second one with the end of the year sales and holidays. While there are only a few leading console brands, their market penetration is quite significant, making gaming consoles some of the more common connected devices on home networks.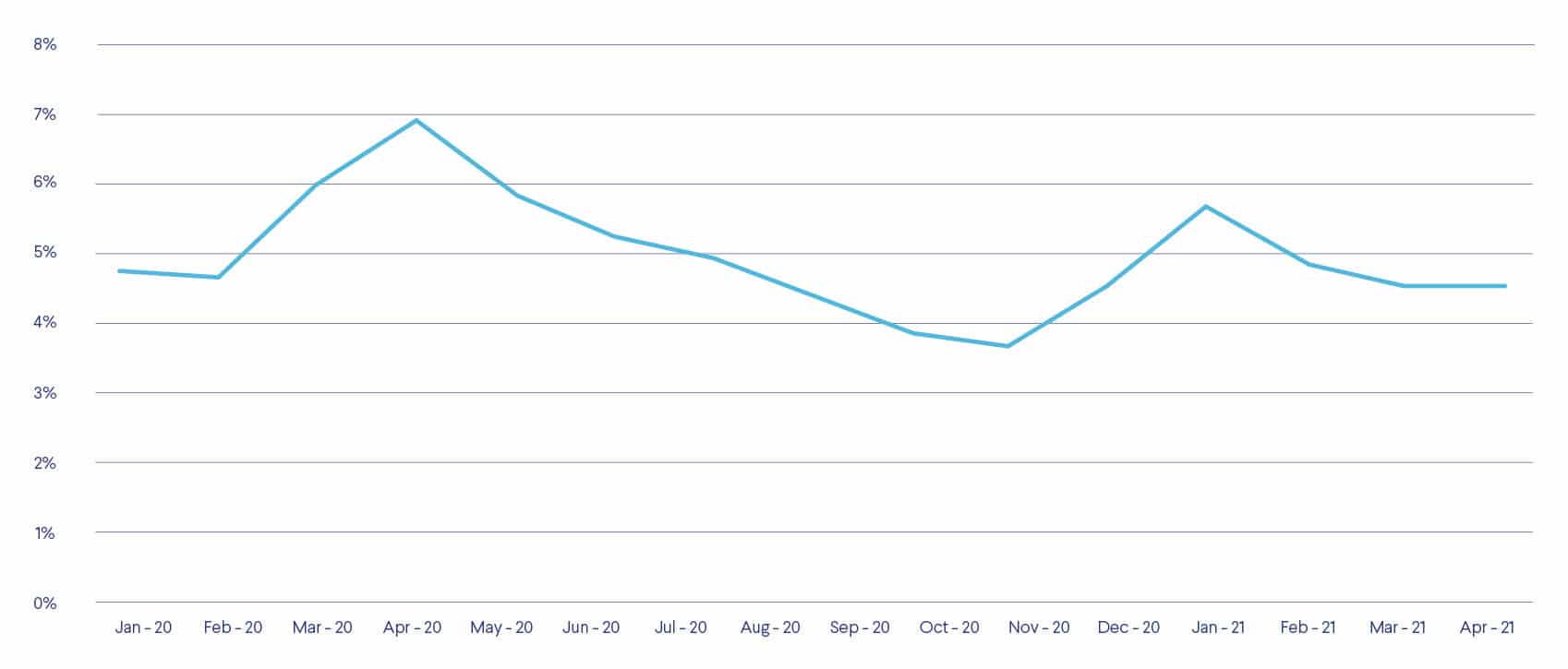 Our device distribution data also shows that the PlayStation 4 is by far the most popular gaming console, while the new PS5 has seen low usage due to unit shortages and scalpers buying up the stock and not using the devices themselves.

3. Smart TV sets and content streaming devices
Our data shows that smart TVs and other streaming devices have an established position in the market, yet their growth is slow. It is very likely that TVs and other traditional entertainment systems will not become the most popular IoT products in the near future. It is, however, interesting to watch the VR headset trends in our full report, which might signal a shift towards the new age of entertainment.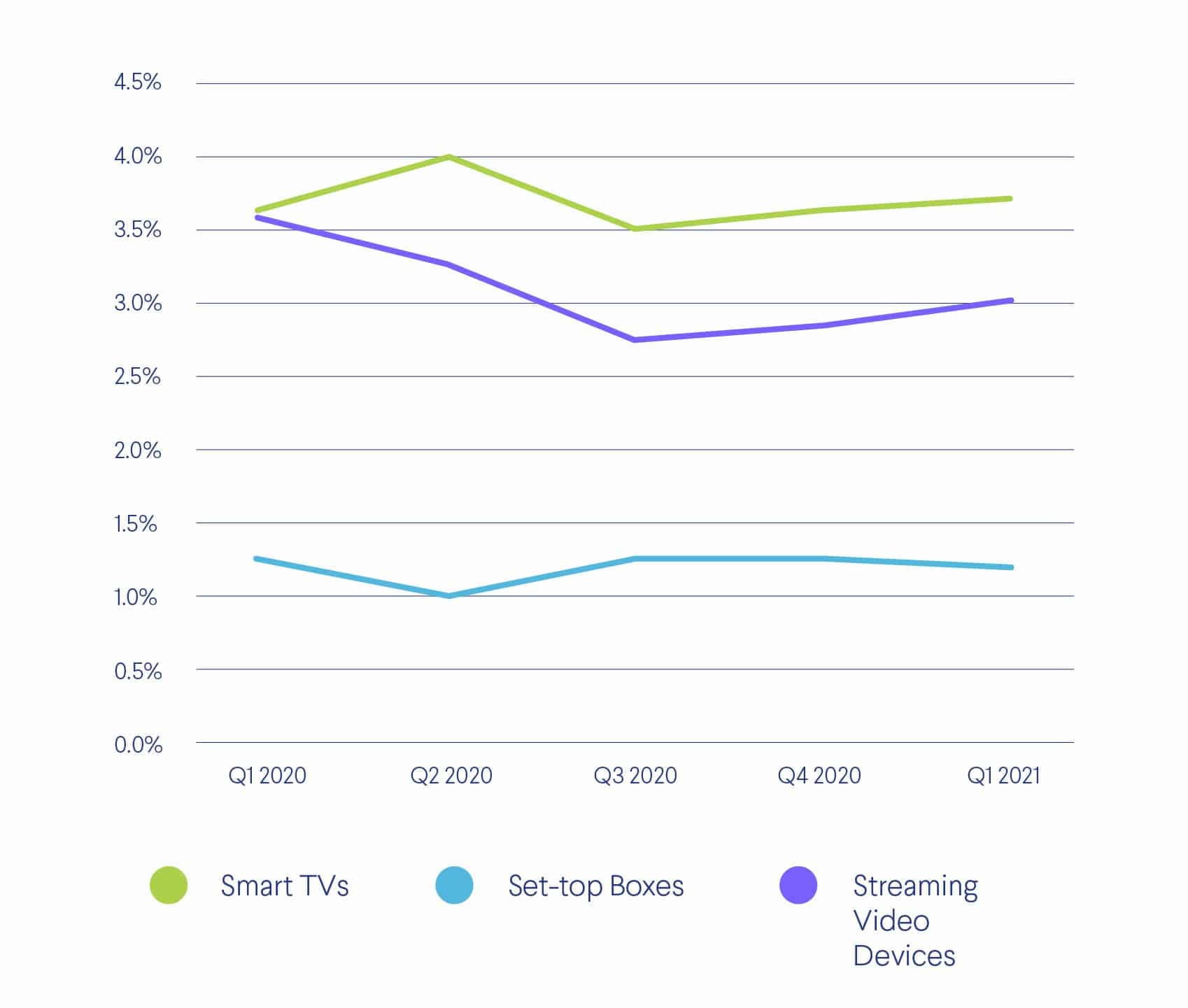 4. Voice control devices
At the end of 2020, voice control devices significantly increased in popularity after the holidays. Overall, these devices seem to have an established position in the IoT market.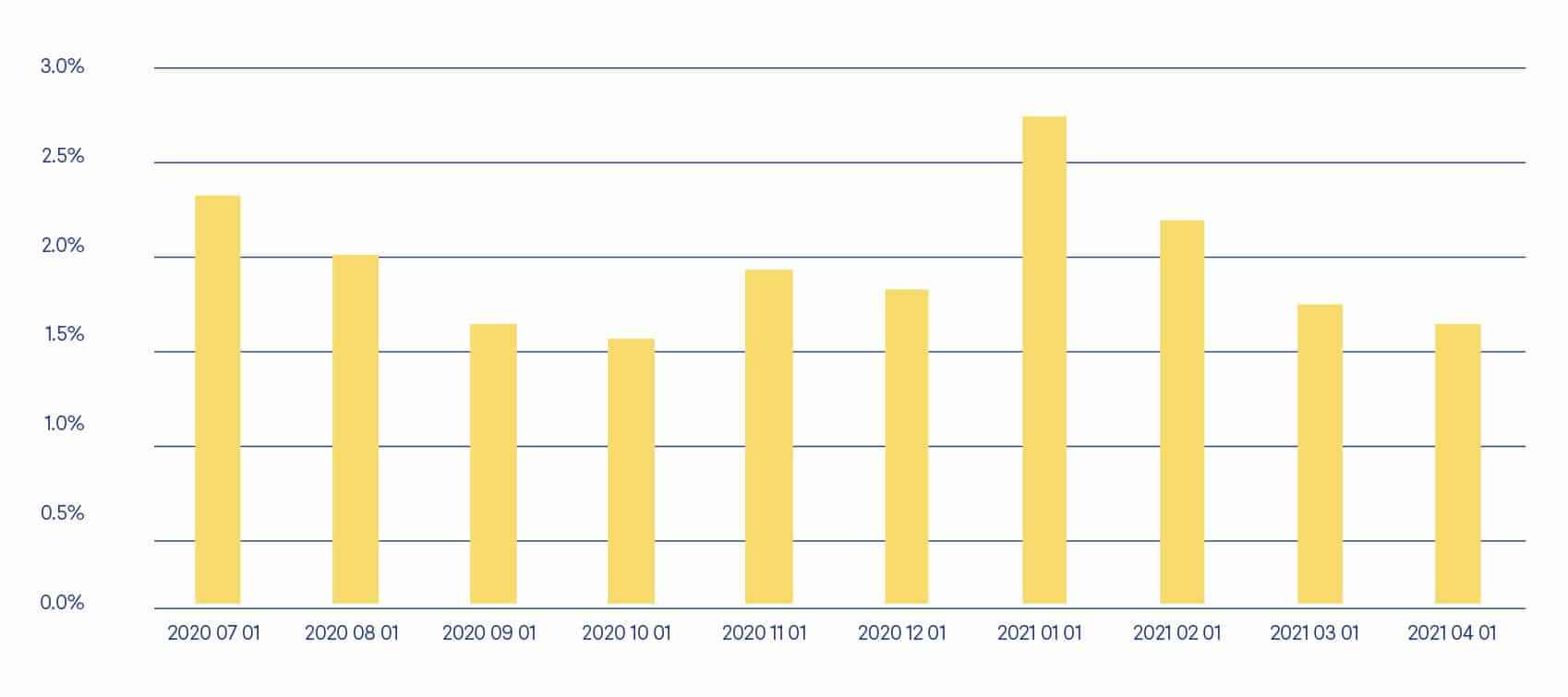 5. Printers
Connected printers have always been among the most popular connected devices. Even though more businesses and households are going paperless, there are still many people and organizations using printers, making them some of the most popular IoT devices in the world.

6. Cameras
Connected cameras have an established niche in the IoT ecosystem, and are some of the most notoriously insecure devices. Our device intelligence algorithms constantly prevent malicious remote access attempts of these devices, as well as automatically monitors them for suspicious connectivity patterns.

Making up close to 1% of all connected devices (including personal computers and smart phones), cameras are an increasingly important device in the overall network provider security space.
7. Lighting appliances
Smart light bulbs, automated lighting systems and adaptive lighting solutions were among the first wave of consumer-grade IoT devices, and are still among the most popular IoT devices, with new products appearing on the lighting market every year.

8. Smart thermostats
Keeping people cooler or warmer with smarter dynamic controls, smart thermostats have a stable, established segment in the smart home IoT ecosystem and did experience a nominal decrease in popularity over the last few months.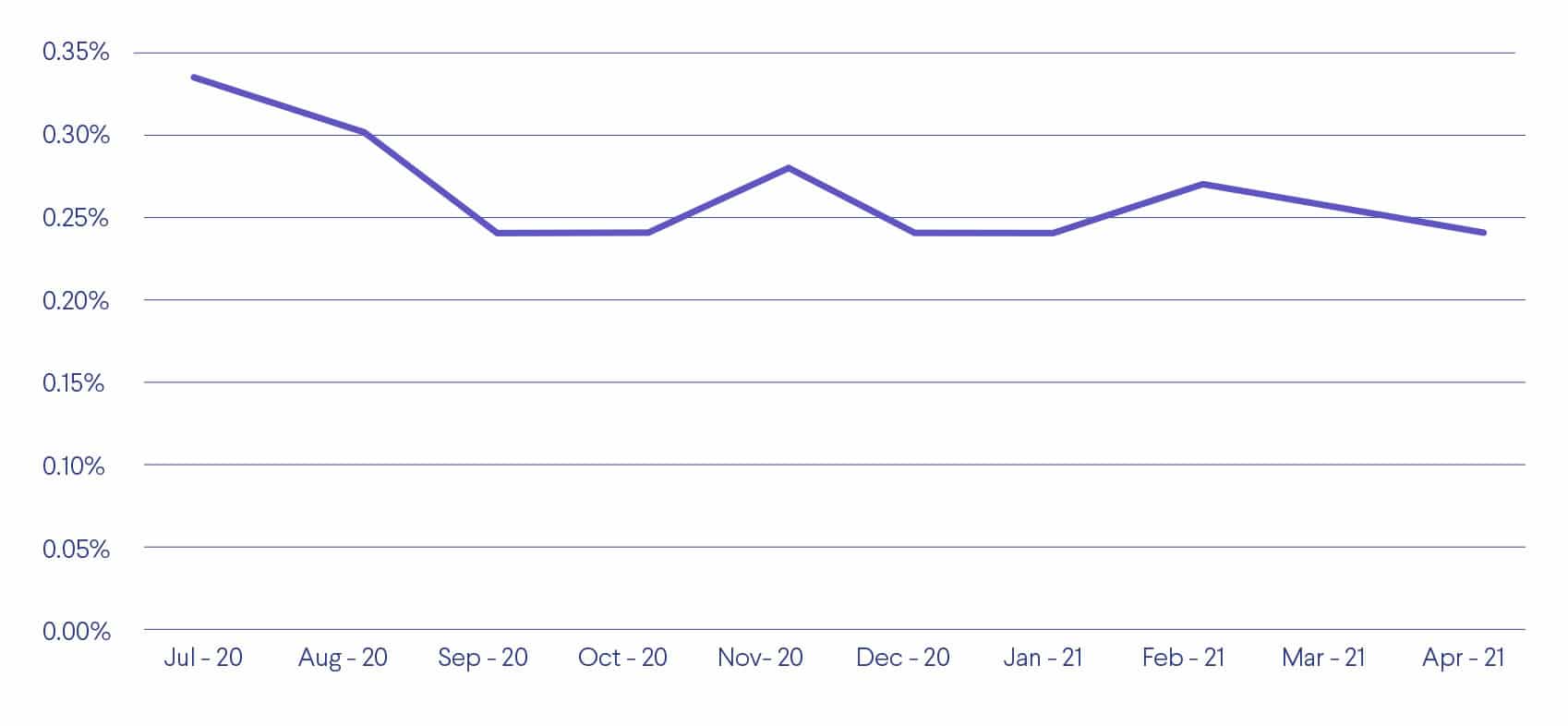 In terms of the most popular smart thermostat models and makers, Google's Nest, ecobee and Honeywell are the most popular brands on the market. For more data about the most popular IoT brands, see the full report.
9. E-readers
E-readers had a massive +150% increase in Q2 2020. Making up a rather small portion of the overall connected device population (0.3%), this jump in e-reader popularity was quite significant, even if it did not create any lasting trend in the year since.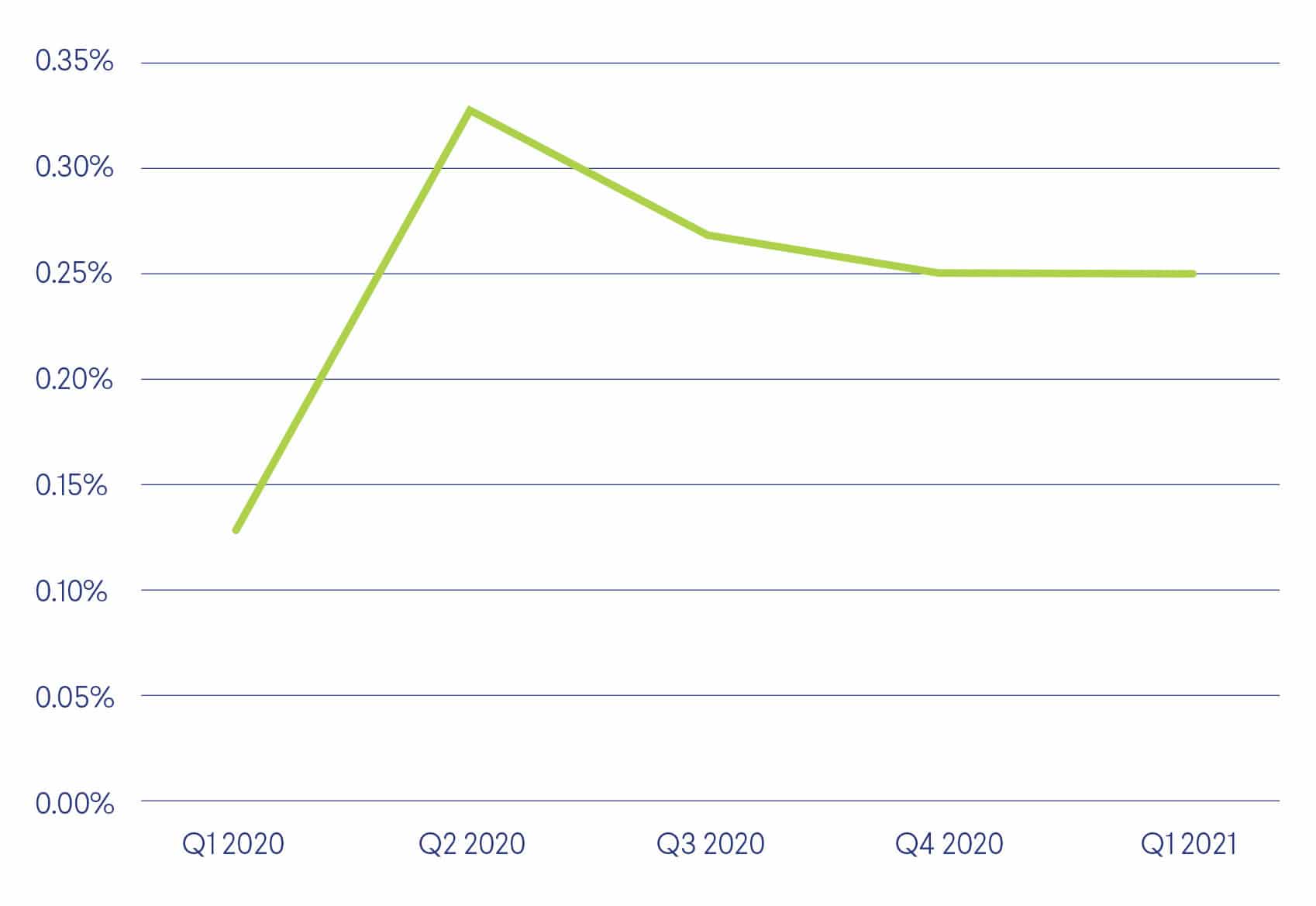 10. Smart doorbells
There are several categories of smart home safety devices, and all of them had similar adoption rates at the start of 2020. Nevertheless, our data shows that smart doorbells are becoming more popular, close to doubling their quarterly new device numbers. On the other hand, connected smoke alarms and smart key locks have small and stable niches in the connected device ecosystem.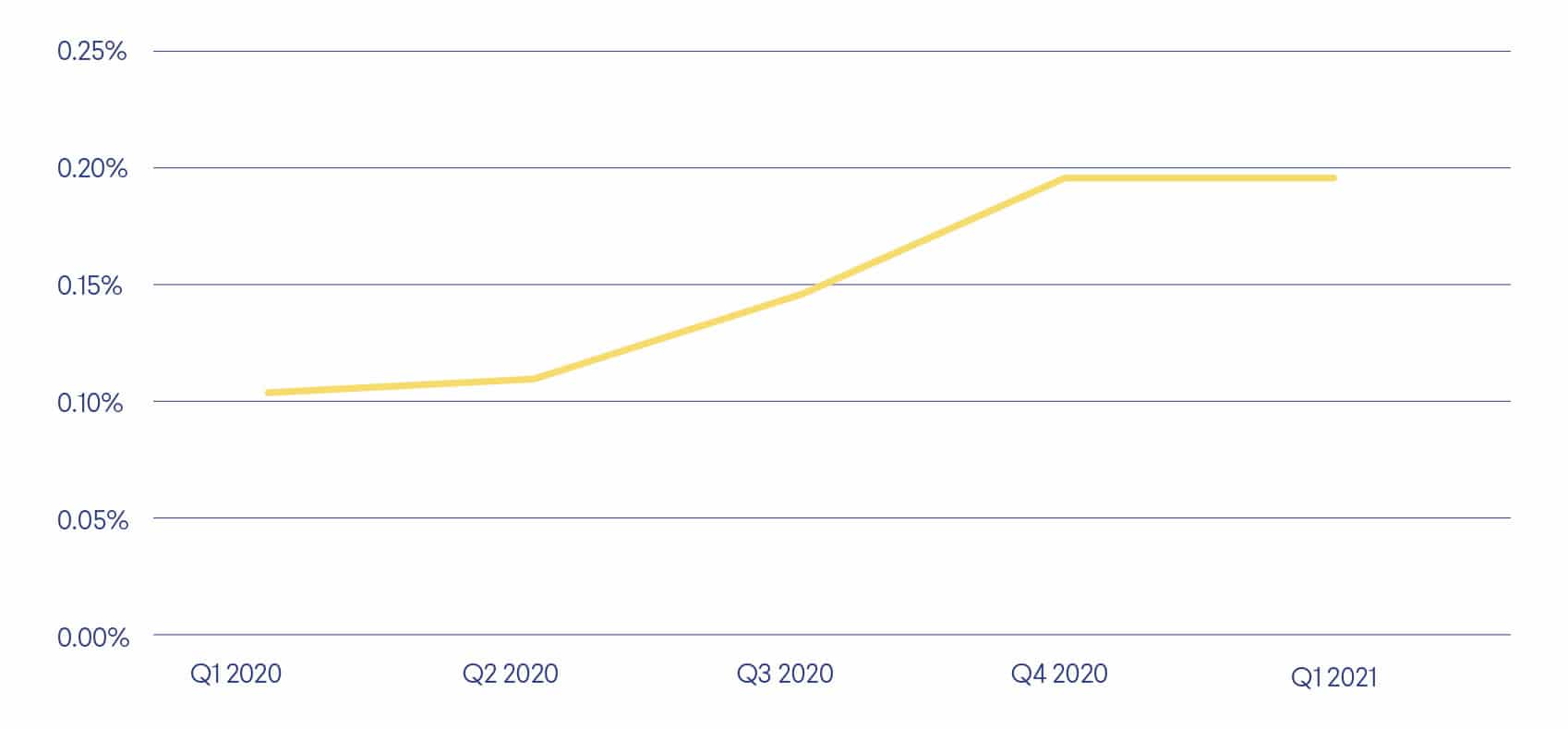 11. Alarm systems
As noted above, alarm systems recently had a surge, almost tripling their popularity among all connected devices.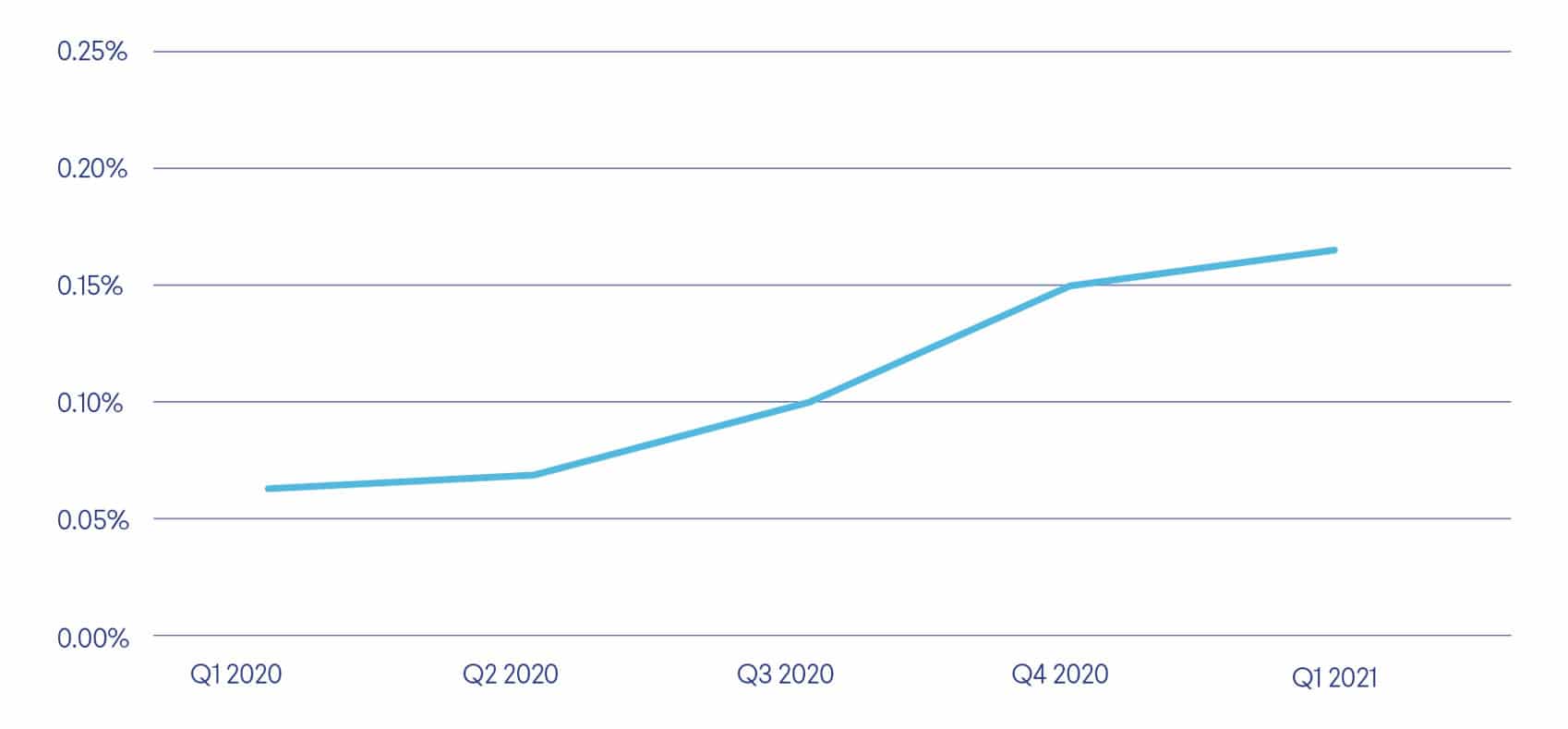 Interested in IoT security? Read the latest from our researchers to learn about IoT malware and IoT hacking.
Rising-star IoT Products
Some IoT products might become very popular rather soon, even if other IoT devices have more adoption currently. We have analyzed our data to show four outstanding examples of Internet of Things devices that have gained substantial popularity recently.
Sports and fitness devices
Gym lockdowns and more time at home did not stop people from exercising, and we saw an increase in smart fitness and sports devices connected in March 2020 onward. An overall increase of 50% in popularity, fitness and sports devices show how a significant change in the daily habits and living conditions impact the online smart device ecosystem.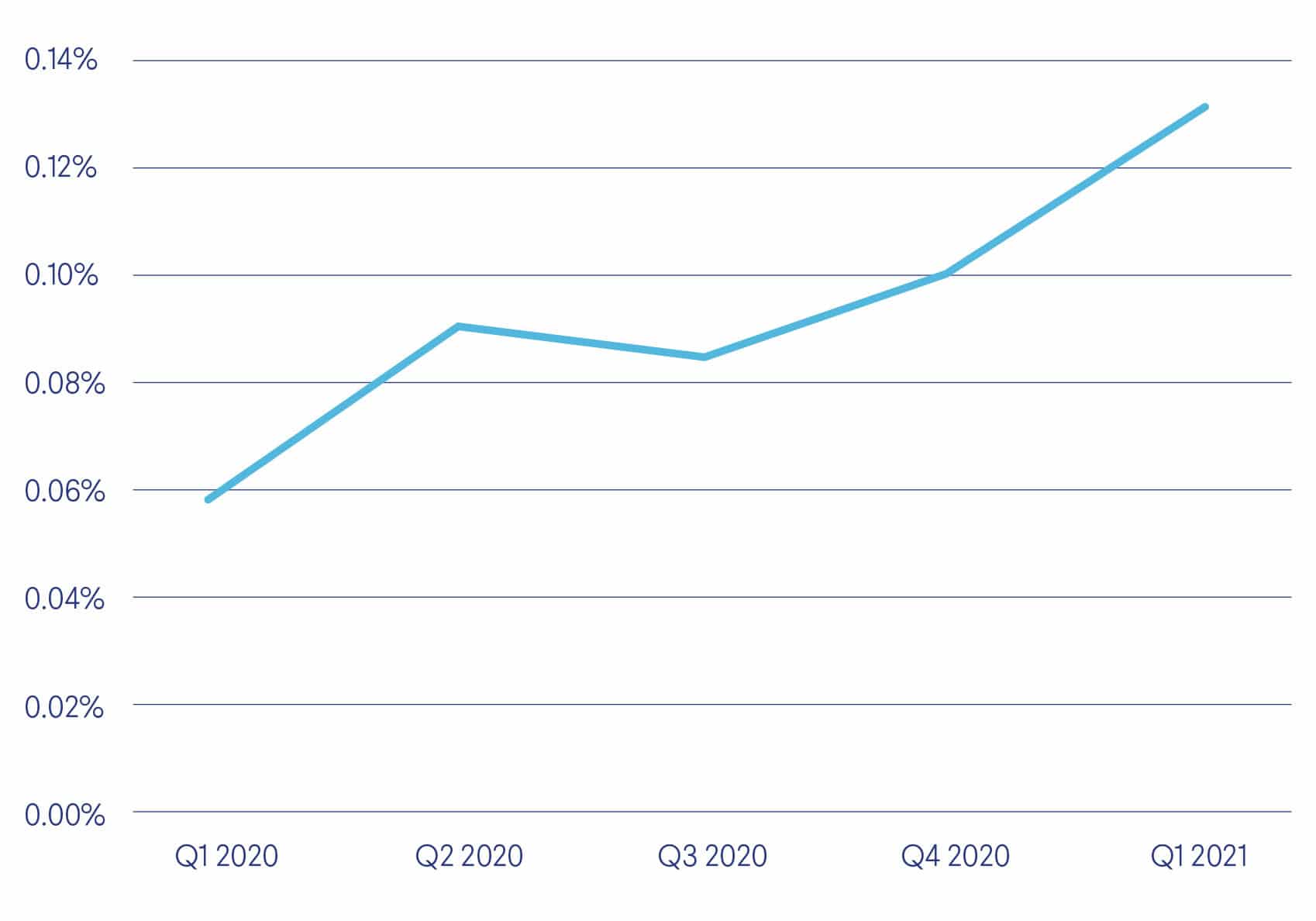 Home robots
Roombas and other home robots are not yet popular enough to appear among the top IoT devices, but our impressions of this space leave us confident that we will see more IoT robots in consumer homes in the coming years.
Connected cars
Still niche among IoT devices (only 0.05% distribution among all connected devices), cars are slowly gaining traction, and two manufacturers are competing for the lead: Ford and Tesla. Ford has been the more popular connected car brand since last summer, while other manufacturers are struggling to carve out a significant portion of the market, with Subaru being the only other manufacturer that had any significant increases in new connections since July 2020.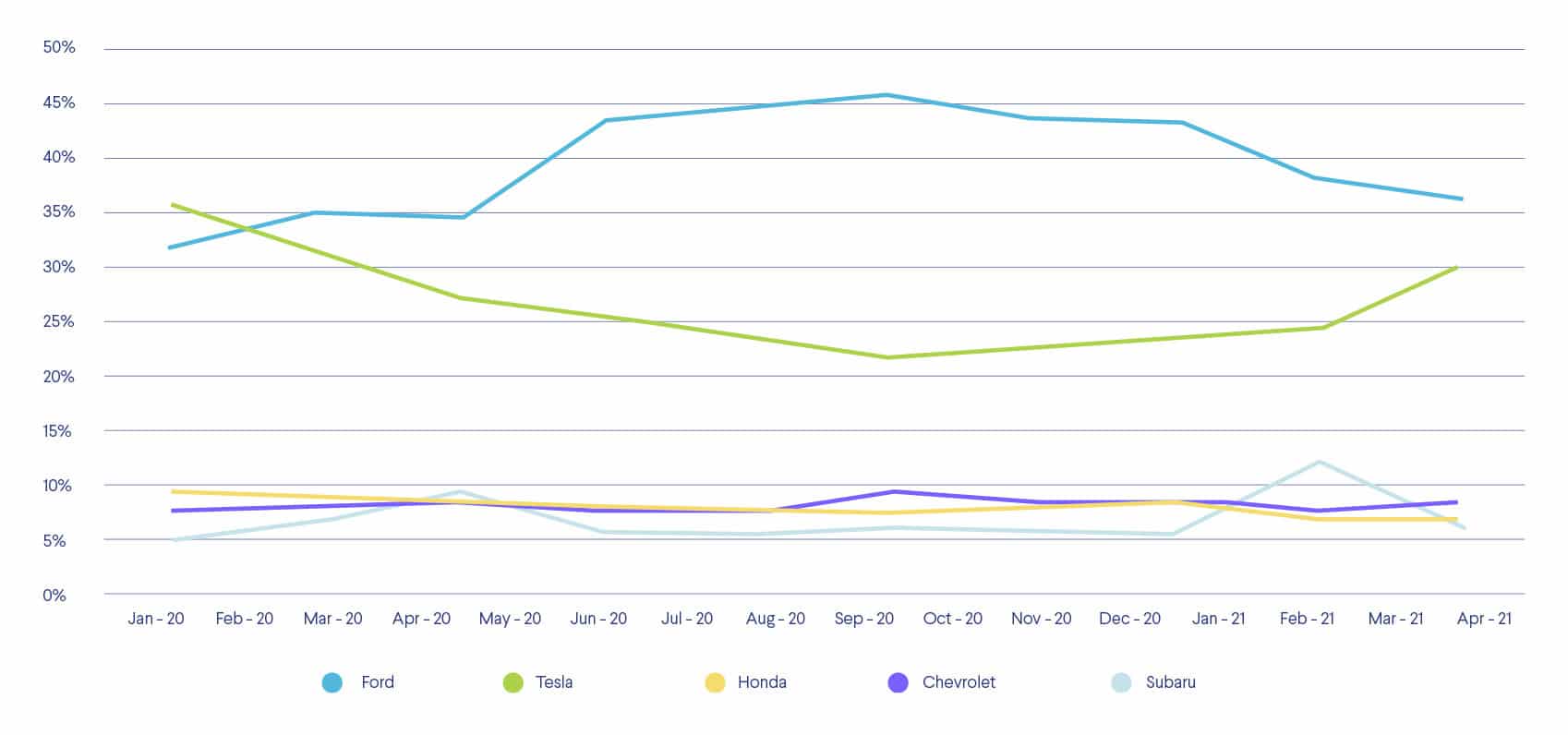 Smart photo frames
Photo frames–were clear outliers in IoT popularity last year, and had massive increases in new connections. These exotic IoT devices allow people to connect their external (e.g. cloud storage) photos with the frame in their home. Several brands are strong in this market niche, making this an interesting category to watch in the near future.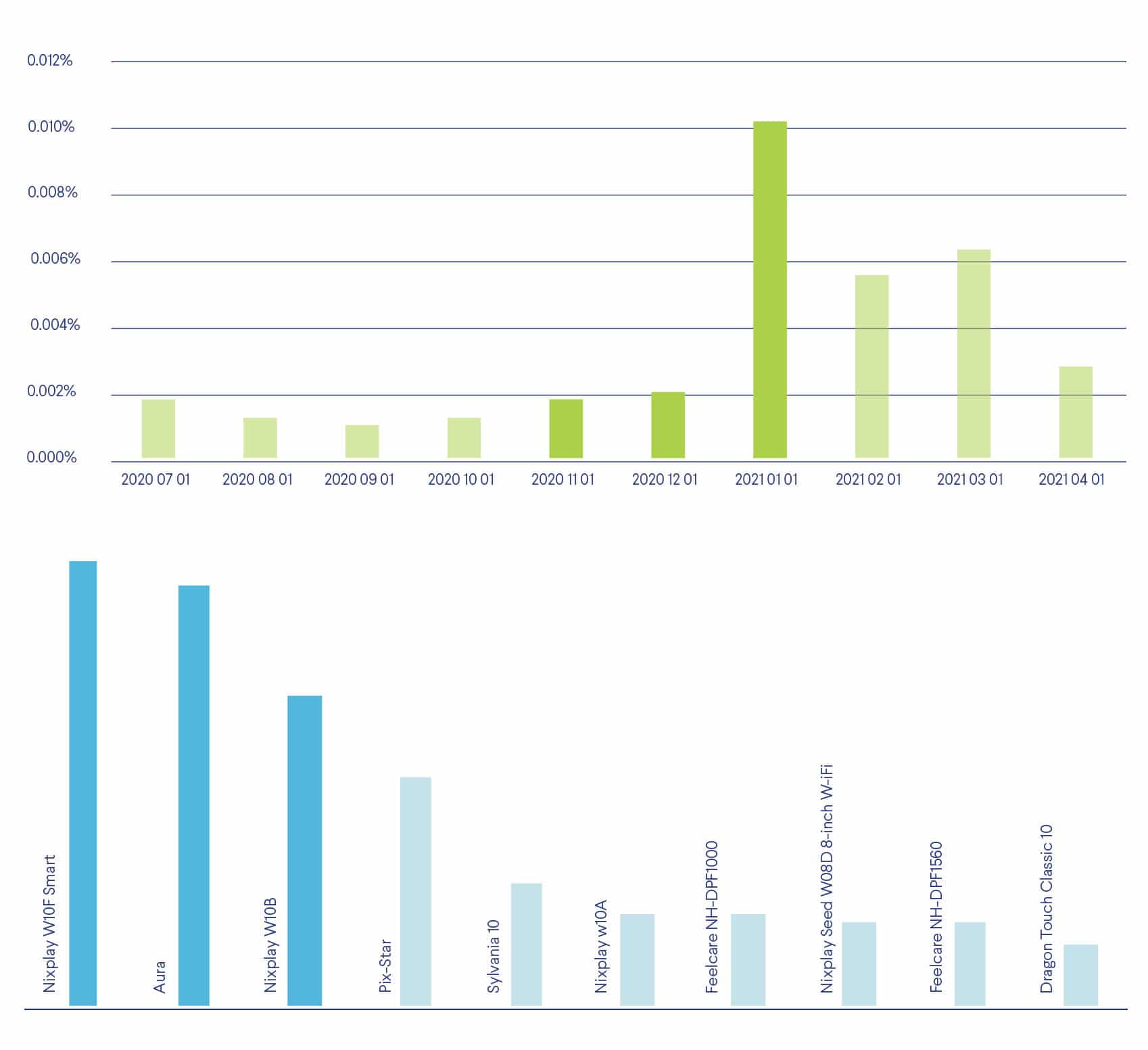 See More IoT in Numbers
Download our public report on the state of connected devices to get more in-depth and useful data on the IoT device market and the brands that make the most adopted IoT products.
Interested in IoT security? Subscribe to our newsletter to get the latest insights about IoT attacks, botnets, and attacks observed in our honeypots.