12 Most Popular IoT Devices in 2023

This is an annual article where we present which Internet of Things (IoT) devices are the most popular, based on our latest device intelligence report. As the largest provider of device identification and network intelligence services for network service providers (NSPs), CUJO AI has the most precise data on real-world consumer IoT device adoption and gadget popularity trends. The data used in the report and this article are aggregated and anonymous.
You can find all our device intelligence reports in the device statistics portal.
We use privacy-respecting machine learning methods to detect, identify, and classify consumer devices connected to home networks monitored and protected by our services. CUJO AI helps leading network service providers identify and manage over 2 billion devices on over 50 million networks (as of September 2023). For even more data on device popularity, trends, and the most popular IoT brands, download the full report.
Most Popular Types of IoT Devices in 2023
In 2023, some IoT devices became more popular than before, for example, connected cameras used to be less popular than voice control devices or even printers, but this year connected cameras were among the fastest growing IoT device categories with 21% growth in popularity. This year's data also shows that smartwatches were relatively less popular than before, likely signaling a saturated market.
Our latest report covers growth dynamics and the most popular brands across various IoT device categories, including the continued growth of connected cars (+32%), a stellar increase in kitchen appliances (+95%) and baby monitors (50%). Interestingly, a few of the most popular IoT devices, such as gaming consoles and smartwatches, have become less popular since 2020. Overall, CUJO AI is able to identify tens of thousands of device types, brands, and models to help network service providers analyze and improve their connectivity.
1. Gaming Consoles
With 3.7% of all connected devices, gaming console popularity has taken a hit (from 4.8% in 2022), nevertheless, the category has still overtaken smartwatches to become the most popular type of connected devices aside from smartphones, desktop and laptop computers, and tablets.
It should be noted that some people don't consider gaming consoles to be IoT devices. If you are one of them, please subscribe to our newsletter, follow us on LinkedIn, and move to the next entry in the list.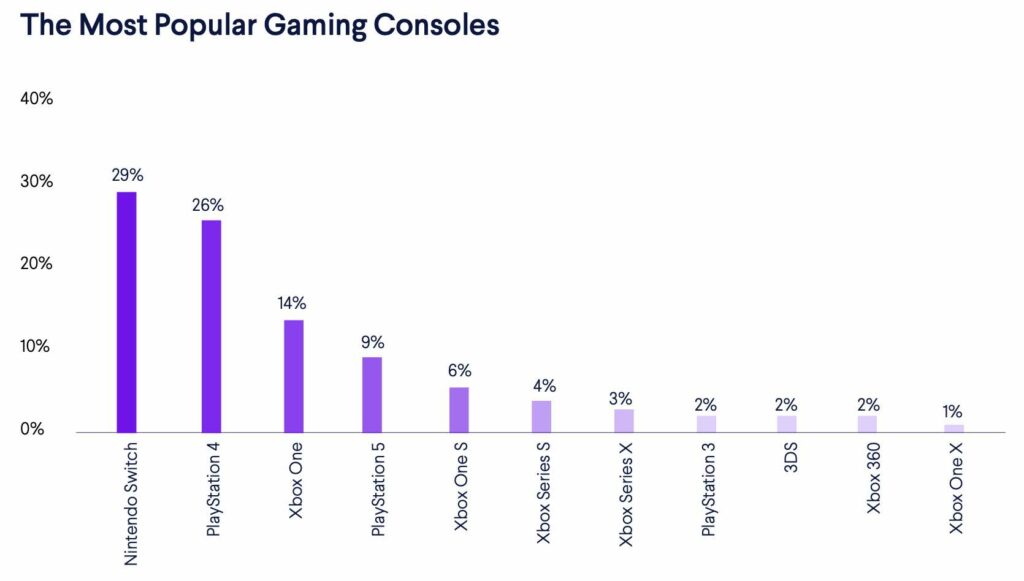 This year's report also looks into how brand loyalty plays into gaming console ownership. For example, 48% of homes have gaming consoles from two or more brands, while 52% of PlayStation 5 owners also used a Nintendo Switch. For more, download the report.
2. Smart TVs
Smart TVs are the second most popular IoT device type in use today with over 3.5% of all connected devices in use. This category of devices has a stable rate of new devices coming online every year, hovering at around 3-4% for several years, as evidenced by our 2020-21 and 2021-22 device intelligence reports.
3. Smartwatches
Smartwatches have taken a serious hit in popularity this year. Our data shows that 2.7% of all new connected devices on 50 million networks monitored by CUJO AI were smartwatches. To contrast, in 2022 smartwatches were the most popular IoT devices with a bit over 5.5% of all connected devices.
It should be noted that smartwatches are in the top 5 most popular devices of both Apple and Samsung – the two most popular device brands overall, as evidenced in the latest device intelligence report, which also covered brand loyalty in consumer homes.
4. Cameras
Connected cameras are a standout category of IoT devices that experienced 50% growth throughout the year. Cameras currently make up 1.5% of all connected devices, and Blink is the standout brand with 35% of all cameras connected since April 2022. Amazon's Ring, with 25% of all cameras, is second.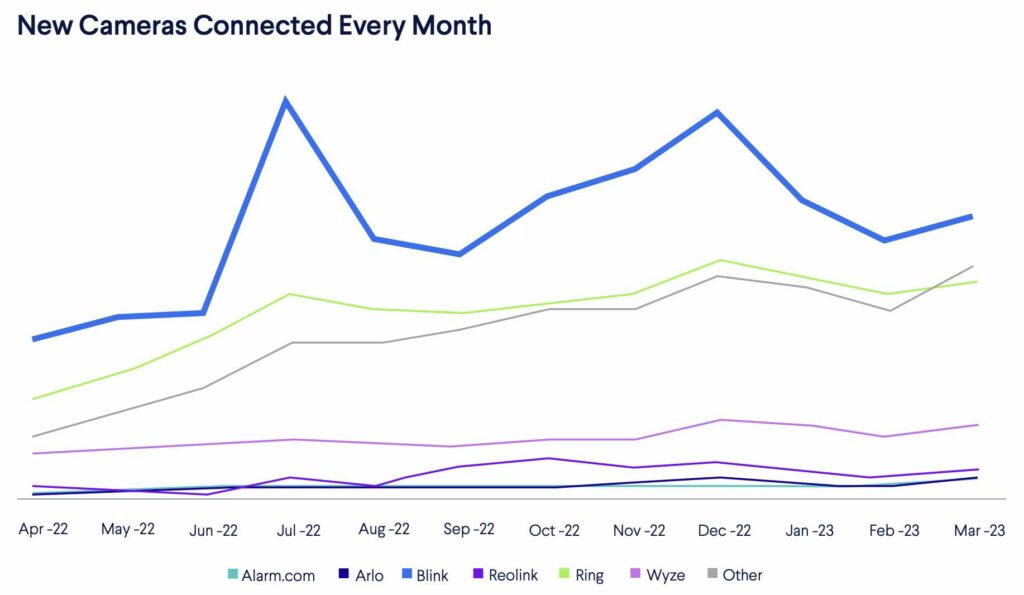 There are dozens of smart camera brands on the market, and some have serious cybersecurity issues. Our latest cybersecurity report shows which camera brands and models are targeted by malicious actors most often.
5. Voice Control Devices
Voice control devices, much like smart TVs, have a stable share of connected devices, with 1.4% of new IoT devices connected recently. In 2022, this number was 1.9%, showing a relative decline in popularity. Interestingly, voice control devices are the most popular devices from Amazon (excluding Ring) and Google, the third and fourth most popular device brands, according to our data.
6. Printers
Printers remain some of the most popular IoT devices. They amount to 1% of devices connected during the year. This is a significant drop in popularity, used to make up over 1.5% of all devices in recent years. Nevertheless, even if printers are finally out of the top 5 IoT devices, it is still too early to talk about a paperless future.
7. Set-top Boxes
Set-top boxes make up 0.6% of all new devices connected this year, dropping from over 1% of devices in 2022.
8. Lighting Appliances
To many, lighting appliances are the most obvious IoT devices. Rather than being an entirely new gadget, smart light bulbs and other lighting appliances enhance an existing use case through connectivity. At the moment, lighting appliances make up 0.3% of all devices and are firmly among the most common IoT devices.
9. E-readers
E-readers are a popular IoT device category that's dominated by a single brand – Amazon's Kindle with a staggering 93% of the market. Kobo e-readers make up 6%. Overall, e-readers make up 0.29% of all connected devices.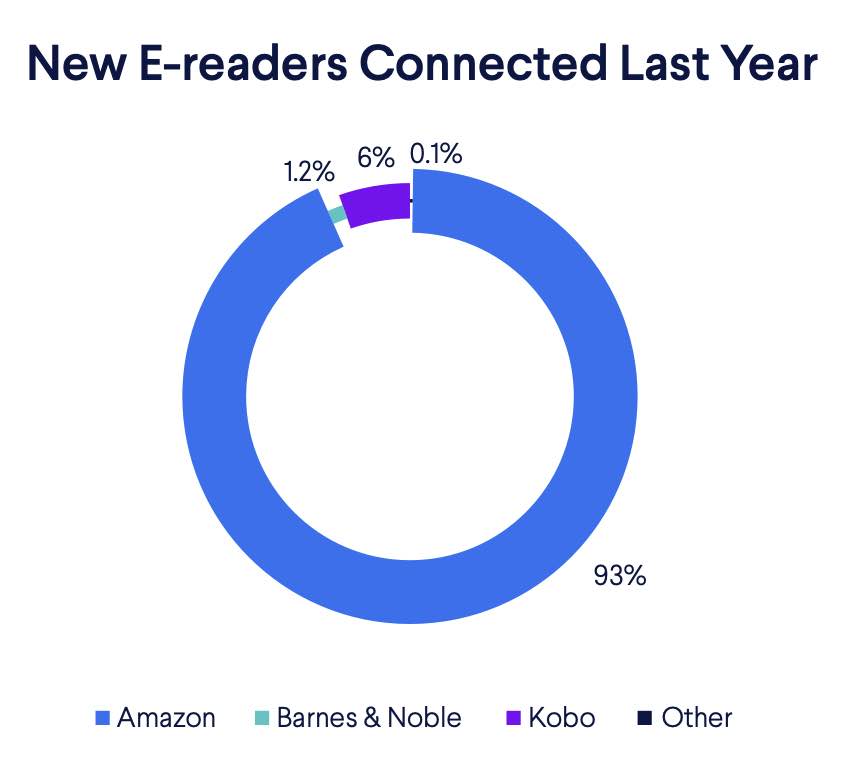 10. Wireless Audio Devices
Wireless audio devices are declining in popularity when compared to other IoT device categories. They make up 0.26% of all connected devices and are still firmly among the top 10 most popular IoT devices, but in 2022, these devices made up around 0.3% of all connected devices. Our data suggests that this category is simply not growing as quickly as the adoption of other types of IoT devices.
11. Doorbells
With more and more videos trending on social media networks, smart doorbells are becoming a major IoT device category with 0.24% of all connected devices in use in 2023, up from around 0.2% in 2022.
12. Thermostats
Smart thermostats are an IoT device category to watch, as these devices are already supported by the Matter IoT standard, which offers improved security and interoperability for IoT devices. Smart thermostats close up the top 12 with 0.237% of all connected devices in use in 2023.
Honorable Mentions: Which IoT Devices Are Gaining Popularity
There are several rapidly growing categories of IoT devices that are not in the top 10. Nevertheless, these are the types of devices to look out for when thinking about the future of IoT.
Connected Cars
In 2023, connected cars were among the fastest growing IoT devices with a 32% increase in popularity. While still rather niche, cars make up 0.08% of all connected devices. Ford is in the lead with Chevrolet and Tesla among the top 3 connected car brands.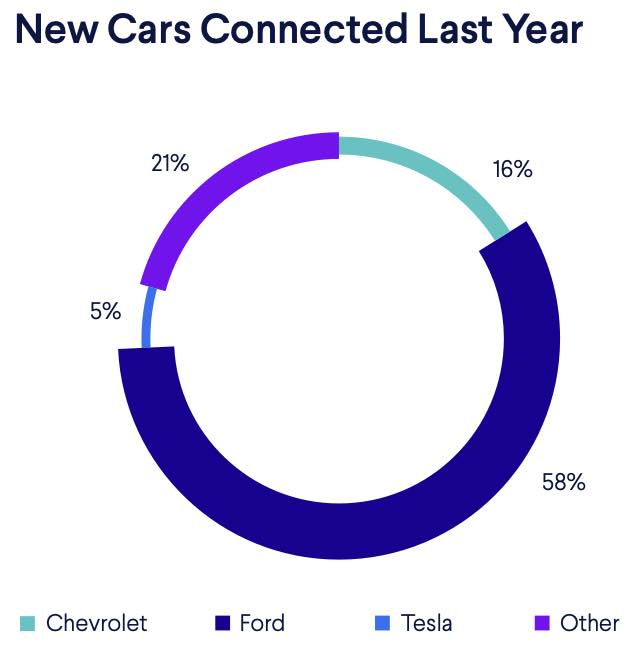 Smart Kitchen Appliances
The fastest growing IoT device category in 2023 were kitchen appliances, which almost doubled their share of connected devices. With 95% growth in popularity year over year, kitchen appliances are the IoT device to watch, even if they currently make up just 0.04% of all connected devices.
Baby Monitors
Baby monitors make up 0.034% of all connected devices, but among IoT devices they were the second fastest growing type of device with a 50% increase in popularity since 2022.