The Fastest-growing Types of IoT Devices in 2023 and the Brands Behind Them

Every new type of device in a consumer's home shifts their expectations for the connected experience. The Internet of Things (IoT) ecosystem is changing, and our data shows that several categories of connected devices had a surge in popularity in 2022-2023. New trends in connectivity force Internet service providers to adapt to continue providing their services and customer care at a level of quality that leaves their customers happy and satisfied.
This short overview is based on the data from our latest device intelligence report, which covers the fastest-growing device categories, brands, and how brand loyalty impacts the connected device ecosystem. The data here and in the report comes from CUJO AI Explorer, an AI-driven device identification service for the largest network service providers in the world.
For more, download the full report and visit our device statistics portal.
IoT Type Growth in 2023
Eight device categories have experienced double-digit percentage growth since April 2022. Kitchen appliances nearly doubled in popularity on a year-over-year basis. Additionally, baby monitors, pet devices, energy management devices, and connected cars also experienced over 30% growth in popularity during the same period.

Fastest-growing Types of IoT Devices in 2022-2023
1. Kitchen appliances (+95%)
While the kitchen appliance category experienced stellar growth, just two brands were responsible for most of it. The primary driver was Samsung, which has quickly become the most popular smart kitchen appliance brand. GE, which had previously led the category, has also grown in popularity.

2. Baby monitors (+50%)
While quite a few brands have entered the baby monitor market, our data shows that two brands are primarily responsible for the growth in baby monitor popularity: Hatch Baby and Nanit. Motorola also grew by almost 60% but has a much smaller device population.
3. Pet devices (+44%)
The connected pet device market is heavily dominated by a few brands. The top three brands account for over 99% of all connected pet devices, underscoring the nascent state of this market. This year, the release of Litter-robot 4 was the main growth factor in the category.
4. Energy management (+36%)
The energy management sector has been experiencing steady growth, as evidenced by the findings in the previous year's report. One dominant player in this category is Enphase, which has grown to a substantial 56% market share. Enphase has achieved remarkable progress, nearly doubling its average monthly connected device numbers over the course of the year.
5. Cars (+32%)
The connected car market has witnessed significant expansion, with Ford emerging as the front runner in terms of the sheer number of new connected vehicles throughout the year. Chevrolet and Tesla have also shown sustained growth in this category.
Other notable categories
E-readers (+28%)
Smart home automation (+27%)
Cameras (+21%)
IoT Growth – Challenge or Opportunity for ISPs?
The growth of these and other device categories reflects the increasing integration of technology into various aspects of daily life. As consumers seek convenience and efficiency, their expectations for connected experiences also evolve with every new feature and functionality. The trends we observe every year indicate a continued demand for smart and connected solutions across multiple sectors.
As we've noted in previous device intelligence reports, the holiday season is the best indicator of the prevailing device trends in the market, as consumers seek out the best deals on devices that enhance their convenience, entertainment, and personal well-being.
During the holiday season, which spans from late November to the end of December, consumers connected significantly more new devices were connected. According to our data, new device connections increased 19% in November and 25% in December. Several device categories witnessed significant boosts during the holiday season, notably baby monitors, e-readers, smart toys, and gaming consoles.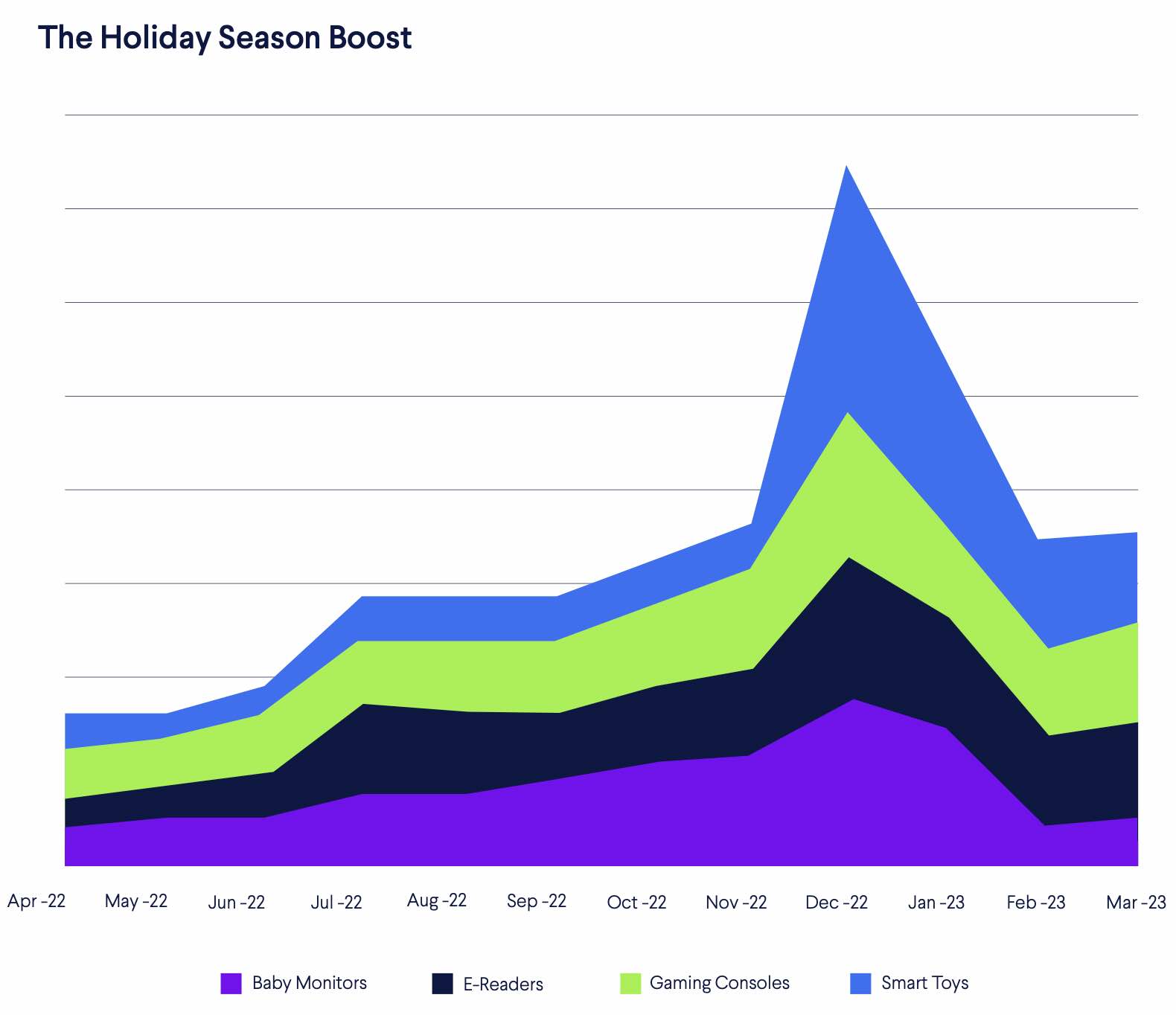 Some categories of devices continue to show strong surges every year, which can give network service providers valuable insight into what types of use cases they need to prepare for before, during and after the holiday season.
Subscribe to our newsletter to get notified when we release new data reports.