Connected Cars Gaining Popularity in 2021-2022

Connected vehicles are becoming more common on the streets of North America. The 2022 report on connected device popularity dedicated an entire chapter to the consumer connected automotive sector to show how the overall connected car popularity changed throughout last year. To find the latest data on device popularity, visit the CUJO AI Device Statistics Portal.
Connected Car Popularity in 2021-2022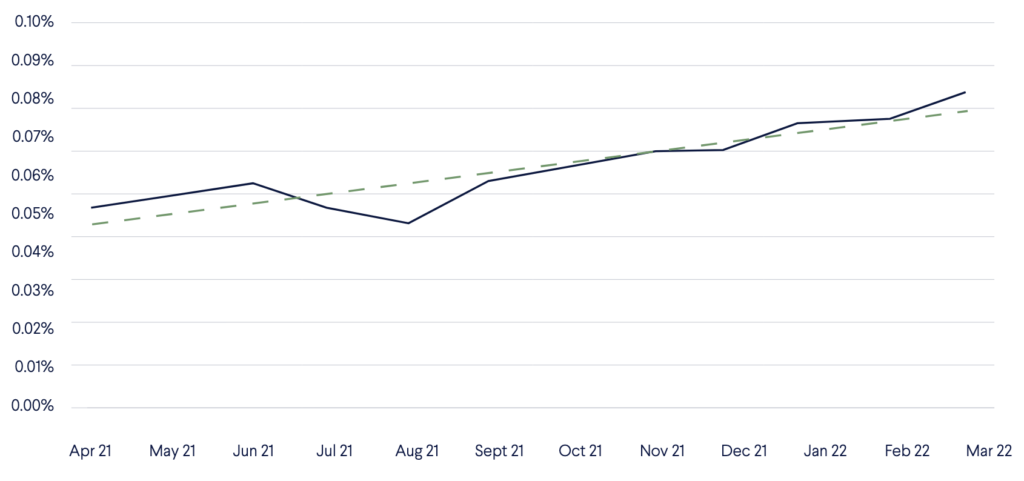 Two Connected Automotive Companies Are Dominating in North America
Data from North America clearly shows that two automobile manufacturers – Tesla and Ford – are dominating the connected car market. Here is a full breakdown of the distribution that includes car multimedia brands.

Who Had the Most New Connected Cars in Use in 2021-2022
In 2021-2022, Ford and Tesla had the most new connected cars going online in consumer homes monitored and protected by CUJO AI. Tesla had their best month in December 2021, when its vehicles made up close to half of all new connected cars going online for the first time.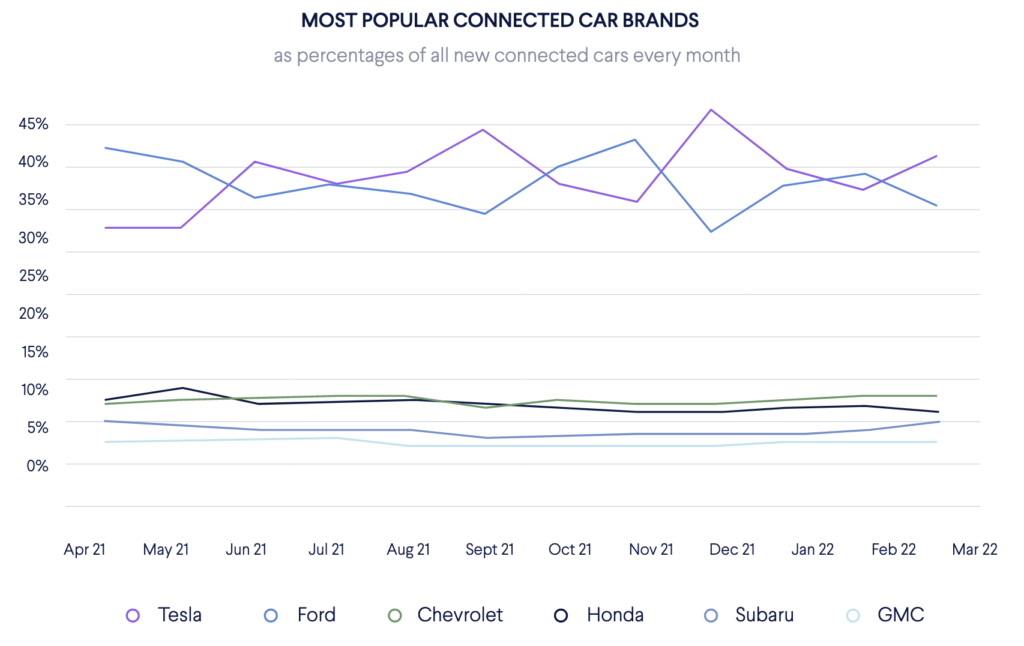 Get the Full Picture
CUJO AI's latest report covers real-world data about 1.7 billion devices on 50 million home networks.
Connected Car Security – a Double-edged Sword?
Connected cars create new opportunities for car manufacturers and consumers. Zoltan Balazs, the Head of CUJO AI's Vulnerability Research Lab, has noted that smart cars have new seemingly secure features (such as remote blocking) which have inherent risks: "Like any other connected system, such things can be hacked and abused by malicious actors."
For a full quote and more data about connected devices, download our report about the connected device landscape in North America.
Detecting and Identifying Connected Cars with CUJO AI
The data on this page and in our Device Statistics Portal is gathered by advanced AI-driven device identification algorithms, which allow leading network service providers to better understand their network and improve every aspect of their service.
Our algorithms use non-invasive connectivity data to identify device types, brands, models, and OS versions. In addition to identifying connected cars, CUJO AI Explorer can detect and identify over 50,000 unique device models and configurations.