How Telecoms Can Gain an Advantage: AI Value-Added Services

Telecommunications companies are some of the most data-rich organizations investing in artificial intelligence (AI) technologies. We have already written about using AI for telecom analytics, and this article will focus more on the ways in which telecoms can gain an advantage through AI-driven value-added services.
Higher Quality Network Security and Digital Life Protection
Consumers believe major telecommunications companies are responsible for protecting them, as shown by our cybersecurity perception survey of US citizens. This means that customers trust internet service providers (ISP) to offer the best means for additional protection. It also opens a lucrative opportunity to offer those means as additional services.
Transforming the Connected Experience
Network service providers are revolutionizing the industry thanks to CUJO AI's groundbreaking device intelligence.
ISPs that are ready to take up the responsibility of protecting end-users need the most flexible technologies for security, content control, and parental protection. Artificial intelligence is exactly this type of technology. Large scale networks are already using CUJO AI Sentry to go beyond list-based reactive measures, since it can react to threats and malicious activity in real time.
The rapid reaction time working on the network operator's side is a clear advantage for security-conscious customers, and several of our Tier 1 clients are already monetizing advanced security measures and digital life protection as additional services.
For a more in-depth view of how AI can also protect mobile devices, read Leonardas' latest article on the most prevalent mobile device threats.
Digital Life Protection: Parental Controls and Dangerous Content Online
As people's digital lives expand, so do the threats they face. Malicious software and hackers threaten a large part of the population, while children are exposed to sensitive content online. Emerging and evolving threats require close to real-time reactivity, which most protective measures are too slow (or imprecise) to provide. Traditional antiviruses and firewalls rely on reactive approaches: blacklisted IP addresses, DNS entries or known virus signatures.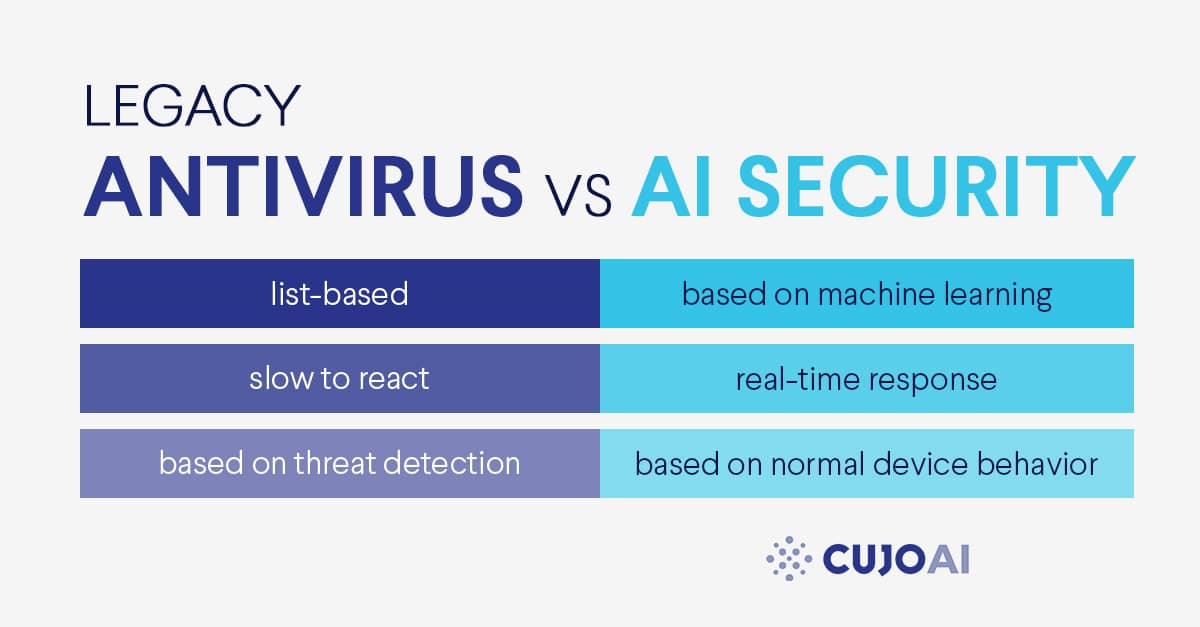 Artificial intelligence models are privacy-respecting and fast-acting solutions that can detect malicious activity as it happens, prevent some novel, emerging threats, and dynamically block dangerous content. Due to its flexibility and adaptability, AI is also much more efficient for parental controls – it offers more ways to react to changing technologies such as random MAC addresses or DNS Encryption (e.g. DOH (DNS over HTTPS) or DOT (DNS over TLS).
AI-driven digital life protection solutions are some of the highest value-added services for telecom users, as they remove a large risk landscape for the whole family.
Better Device Intelligence and Network Management
A major competitive advantage in the telecommunications industry comes from efficient network management, which relies on knowing how the network is used, e.g., what devices consumers use to go online. Most legacy solutions use limited device identification approaches which are unable to identify operating systems, streaming capabilities and many other features. These approaches also do not offer end-users any accessible way to manage their home networks.
Knowing whether a household has one or more streaming devices helps a network operator allocate traffic within their network during peak hours and offer the most reliable 100% home coverage guarantees. It also creates opportunities to prevent malicious activities, such as IP camera hacking or botnets.
AI solutions such as CUJO AI Explorer are exceptionally good at identifying and classifying devices by using several metadata points. An operator can have a full, granular view of 84% of the devices on their network down to the OS versions within just 5 minutes (this number increases to over 92% in the first 24 hours).
When used as a consumer-facing solution, AI-driven device identification makes network management approachable to more end users. Allowing customers to manage home networks efficiently is extremely valuable: our data shows that an average US household currently has more than 15 connected devices, and a majority of people are planning to purchase additional connected devices, according to the 2020 Xfinity Cyber Health report.
AI Can Reduce Telco Risk and Earn More Client Trust
DDoS attacks, botnets and other network abuse costs millions to network service providers, as their infrastructure is used by malicious actors instead of legitimate users. Minimal network interference is a crucial advantage in today's telecommunications industry, and good threat mitigation technologies can be packaged as user-facing notifications that increase customer trust and feelings of safety.
AI can detect botnet-like activity in networks based on a variety of factors, reducing the spread of malware or loads on NSP hardware. Isolating infected or vulnerable devices reduces traffic congestion due to botnet activity and improves connectivity for everyday customers. Alerting customers to their device vulnerabilities creates new opportunities for offering additional products and services, such as advanced protection.
Our advanced AI solutions are deployed to protect over 760 million devices at the moment, and the data we see proves that remote access control attempts are on the rise with the shift towards work from home. AI models have successfully blocked billions of such attempts in 2020, creating a substantial operating advantage for our telecom clients.
Conversational AI Eases Customer Support
Customer service is one of the largest contributors to a telecommunication company's NPS. Nevertheless, it is one of the most demanding, costly, and inefficient parts of the service. Seeing as many service requests are related to troubleshooting, conversational AI can direct some of the most common queries to relevant documentation, tutorials or FAQ sections, decreasing the manual labor load for the customer support workers.
AI can also speed up some customer service tasks through better device intelligence, as the service agent is able to skip several troubleshooting steps that require finding out what the device the customer is using. In some cases, network operators can use algorithms for predictive analytics and fix network settings before issues arise. These AI models detect complex signals that indicate inevitable hardware failures or sub-optimal Wi-Fi mesh placement. As issues get resolved before they impact the users, network operators deal with fewer customer complaints thanks to predictive AI.
Personalized Customer Experiences
AI-guided product offerings, interfaces, and preventive troubleshooting are all AI-based solutions that huge telecommunications companies can take advantage of to increase their ARPU. Personalization relies on machine learning algorithms dynamically learning and experimenting with customer offerings, interface suggestions or technical aspects of a subscription.
Large telecom client bases are perfect data-rich environments for implementing dynamic and personalized customer experiences, which can help service providers discover the best value-added services to offer.
Gaining a Competitive Advantage in Telecommunications
Telecommunications companies have a lot of data that is currently not analyzed or used to its full extent. When used together with solutions to extract and structure data, machine learning powered artificial intelligence is the best analysis and decision-making tool that can improve many areas of the business. We already see how leading telecoms use AI for value-added services in addition to telecommunications analytics, network management and protection.
If you want to learn more about some of the ways in which CUJO AI enables network service providers to add digital life protection services to consumer broadband offerings, contact us at [email protected]