What Drives AI Investment in the Telecommunications Industry?

Enterprises worldwide are constantly looking for ways to become more profitable, generally by cutting costs or turning to innovation.  
This year marks a new phase for the global artificial intelligence (AI) market: Businesses face complex issues when the scale of their – or their clients' – operations can't be supported properly under crisis conditions (like shifting to remote operations due to COVID-19).  
Innovations like AI systems and software solutions are at a phase where it's been proven they can solve problems of the future, improving time to resolution and its quality, reducing costs and driving new business models. 
AI Would Not Be Possible Without Big Data
In the telecommunications industry, ISPs have been experimenting and deploying AI-driven solutions actively, and the investment in telecom AI software is expected to grow to more than $11.2 billion in 2025, according to Tractica. 
AI-driven solutions offer fast and scalable predictive analytics, automation and network optimization for reducing operational costs, and improved service and customer satisfaction. Telecoms use AI to deliver new Value-added Services (VAS) for consumers, to maintain stronger relationships with subscribers and prevent customer churn. 
US telecoms like Comcast, Charter Communications, AT&T and Verizon, as well as just about every other large-scale telco uses AI for enhanced customer service. However, the fastest growth in this industry comes from VAS delivered over mobile networks. 
Telecoms are sitting on big data, therefore they are in a perfect position to use AI for launching new services. That's where AI has been known to help operators create new revenue streams. 
Investing in AI is a unique opportunity for ISPs to own the key components for growth – big data and scalable predictive analytics – under a single business. 
The 
G
rowth of 
AI I
nvestment
According to the McKinsey Global Institute, telecommunication companies are expected to be among leaders in developing or adopting AI tools. 
Telecoms already have a lot of data, so it's significantly easier for them to invest in AI since they can build on the foundation that they already have.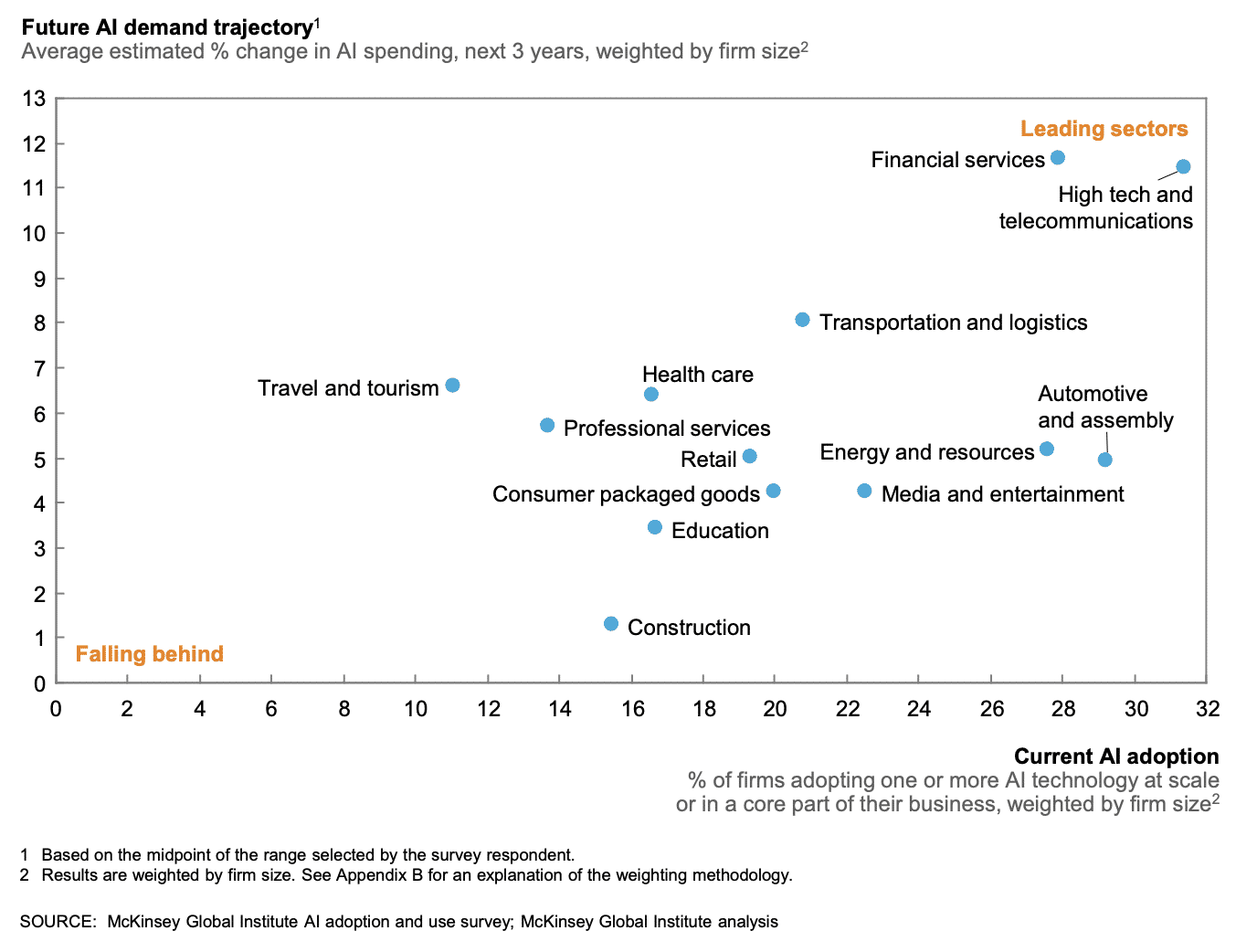 The Core Drivers for AI Investment in Telecoms
Scale
Growing connectivity is a significant factor for telecommunication companies to increasingly use AI to handle the load. According to the latest report by Cisco, by 2023 there will be 5 billion Internet users (up from 3.9 billion in 2018), 29.3 billion web-connected devices (up from 18.4 billion in 2018), and broadband speeds of 110 Mbps (versus 45.9 Mbps in 2018).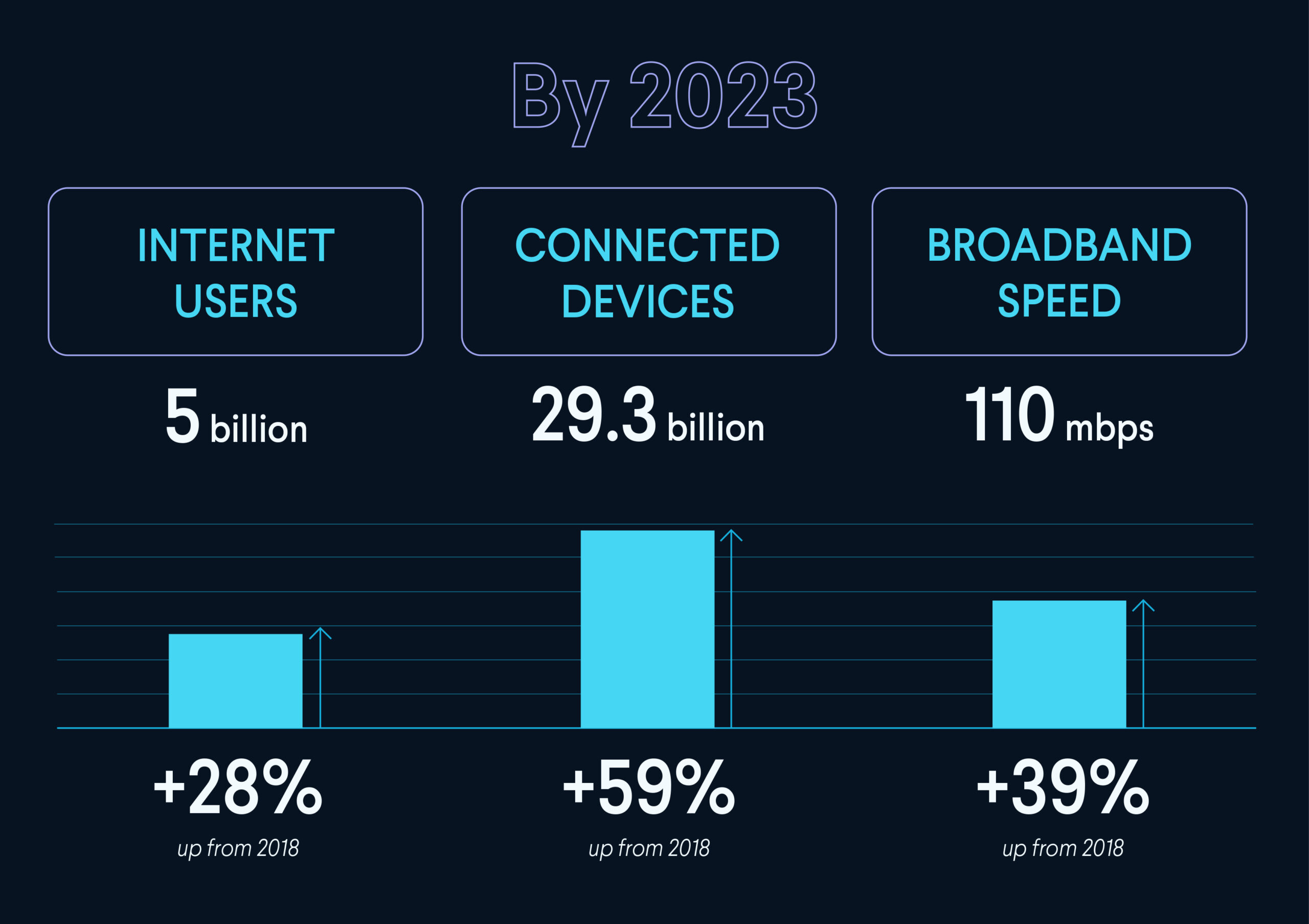 Big Data
Using AI, telecommunication companies can manage their increasing operational load better as they benefit from predictive analytics. Big data that service providers collected over the years from their massive customer bases is an irreplaceable source for leveraging AI for both operational and service-focused needs, e.g., analyzing customer requests together with network data to find the solution to the customer's problem. 
New Revenue Streams 
Telecommunication companies have the most aggressive AI investment intentions, as AI helps identifying opportunities and trends, finding new ways to gain competitive advantage and reducing customer churn. Although telcos focus on cost reductions, introducing new VAS is still the major opportunity for improving their top-line revenue. AI enables operators to offer new services, like home network security protecting users who work from home against increased COVID-19 related cyberthreats, this way responding to the changing market needs almost instantly. 
Reducing Costs
Due to AI, various processes can be automated, allowing experts to focus on more important tasks. This significantly reduces operational costs in the long term. AI also creates an opportunity for telecoms to better enable their customers by providing them with easy-to-use tools and helping service users become self-supporting, which in turn means fewer customer care calls and better customer satisfaction.
F
orecast for
 the
F
uture
To summarize, the industry is reacting to the digital expanse: Complex problems and inevitable need to scale are the reasons, big data that telecoms already have is the enabling component, and VAS or other revenue-boosting desired outcomes are the drivers of the AI investment in the telecommunications industry. 
The forecasts on AI investment growth for the industry differ: Some analyst companies calculate double amounts than others, but the consistent prognosis is that spending on AI will be 5-10 times bigger than it currently is in 2020 – $3 billion.
Total mobile operator spending on Artificial Intelligence (AI) solutions will cross $15 billion by 2024, according to Juniper Research.
The telecom industry is expected to invest $36.7 billion annually in AI software, hardware and services by 2025, according to Tractica.
Operators in developed regions, such as North America and Europe, will account for over 40% of AI spend by 2024, despite only accounting for less than 20% of global subscribers.