The Highlights of Our Five-Year Journey
Posted on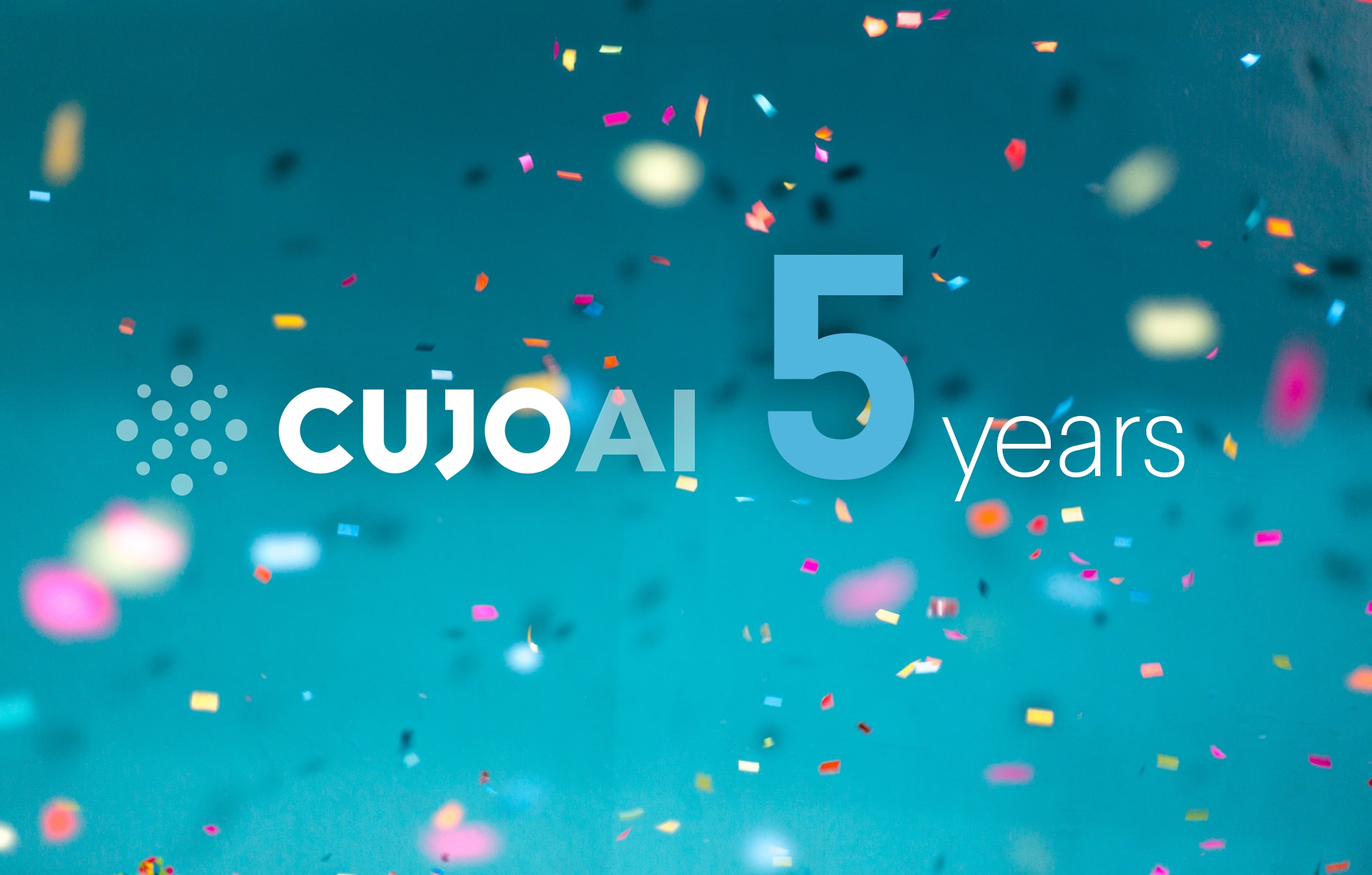 This week, CUJO AI marks an important milestone – it's our 5th birthday. Since 2015, we have overcome many challenges to grow from a small tech start-up to a market leading global artificial intelligence company.
Five years may seem like a short time but at CUJO AI we have achieved so many incredible things in such a short period of time: we have won various industry awards, we are acknowledged by the World Economic Forum, and at over 500 million and growing, we have the largest inventory of monitored and protected devices in the world.
How was this all possible in only 5 years? CUJO AI success comes from many factors, but most of all – from building our teams around experts. We have more than 150 people working for the company in The United States, The United Kingdom, Finland, Lithuania, The Netherlands, and Hungary. It is their hard work, persistence, devotion, innovation, enthusiasm and the odd moments of frustration & desperation that have brought us to this point.
CUJO AI Start-up Is Born

2015–2016 were the year of seeding the idea and founding a tech start-up that works to make the Internet a safer and better place. In 2016, we were protecting 3,200 homes, and raised a goal to protect 1 million homes by 2020.  
In the end of 2015, CUJO AI launched an Indiegogo campaign to crowdfund the initial operation of the company. With a humble goal of collecting 30,000 USD, the campaign performed at 763% as 3,702 backers donated a total of 228,867 USD.  
The Launch of the CUJO AI Platform for Network Operators

 
In January 2018, the company started providing SaaS solutions and committed to scale them, to be able to provide a secure and personalized experience for millions.  
The new technology led to global recognition. We won the Vodafone IoT challenge 2017, British Telecom Infinity Lab Award, 2016, and got recognized in the IoT Security 2017 event by Telefonica, Singtel, Deutsche Telekom, Orange. This showed the team that network operators were ready and interested in the solution. 
The platform was introduced officially during CES: 
The network operators' router in the home is strategically located at the interface between the home and the network. With CUJO AI, operators have an opportunity to develop and launch AI-based solutions. They leverage the computing power of the cloud and the low latency nature of the broadband network that integrates with the home router.

– Einaras von Gravrock, CEO 
Awarded as Technology Pioneer by the World Economic Forum
Our solutions have attracted the attention not only from investors and customers but also from the most prominent global organizations. In June 2018, we have been named as Technology Pioneer by the World Economic Forum.  
Past technology pioneers include Airbnb, Google, Kickstarter, Mozilla, Palantir Technologies, Spotify, TransferWise, Twitter, and Wikimedia.  
We believed deeply in our mission: to offer secure connection and seamless protection. We spotted a real problem for real people, hired the best people to develop a forward-thinking technology, and we offer a winning service today.


– Einaras von Gravrock, CEO
Scaling and Attracting Partners
In January 2019, CUJO AI has officially joined World Economic Forum in Davos, where Einaras von Gravrock, CEO and co-founder, contributed to the panel discussion on Quantum Computing & Cybersecurity and shared insights on emerging security challenges.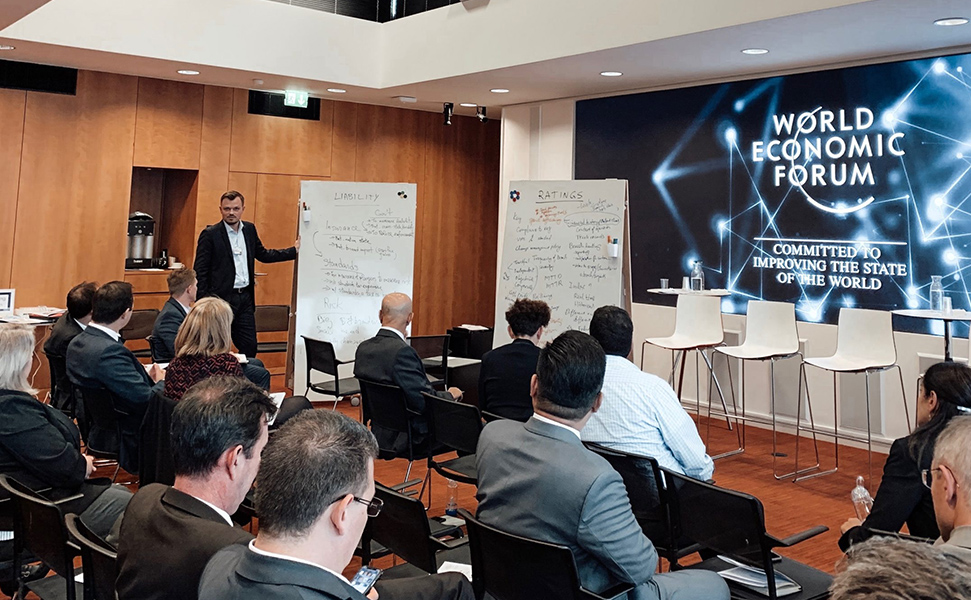 At Davos, Einaras von Gravrock participated in a round-table discussion about the future of AI together with Marc Benioff, CEO, Salesforce; Sheryl Sandberg, COO, Facebook; Angela Merkel, Chancellor of Germany; Bill McDermott, former CEO, SAP; Dara Khosrowshahi, CEO, Uber; Ginni Rometty, CEO, IBM; and other world leaders.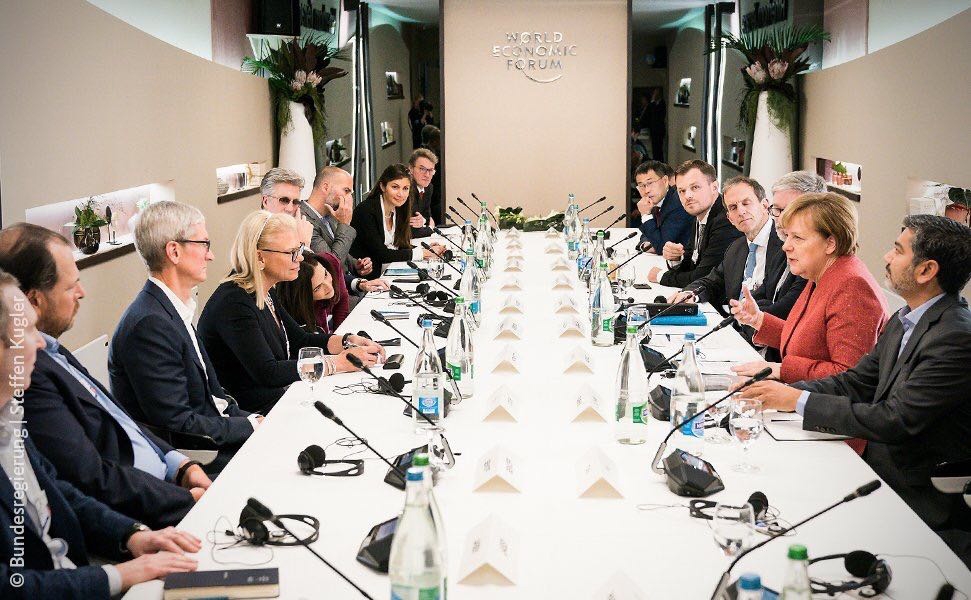 Announced Cooperation with Charter
The same month, we were chosen by  Charter Communications to enhance security and privacy, as well as improve the in-home connected experience for more than 24 million Spectrum Internet subscribers. 
Announced partnerships with Technicolor, AirTies, Avira & Cylance
The start of 2019 was rich with new partnerships. We started working with Technicolor, a leading provider of home routers globally, and Cylance, a leader in prevention-first security solutions. 
We also formed an alliance with Avira, a multinational security software company, as well as AirTies, the most widely deployed provider of managed in-home Wi-Fi solutions to global service providers.
Comcast Launched Its xFi Advanced Security
Using machine learning algorithms to monitor and analyze Wi-Fi traffic in the home, CUJO AI developed the Xfinity xFi Advanced Security service for Comcast. The new service monitors and automatically blocks suspicious activity in real time, informing end customers of online threats to connected devices on their home network.  
Joined the RDK community
In March 2019, we have joined the Reference Design Kit (RDK) community to enable its suite of digital network protection applications on the RDK-B platform. We contribute to the community by participating in software development and implementation of the RDK-B software stack to network operators worldwide. Being an active member of the RDK community allows us to enhance the services that RDK-B enabled operators can deploy on their networks in a seamless manner. 

Leading Lights Awards: Most Innovative Security Strategy
In May 2019, CUJO AI was recognized for the most notable contribution to the global telecoms sector at the Leading Lights Awards. We won the Most Innovative Security Strategy nomination for applying machine learning-based approach to secure smart home and IoT deployments in the major cable operator deals.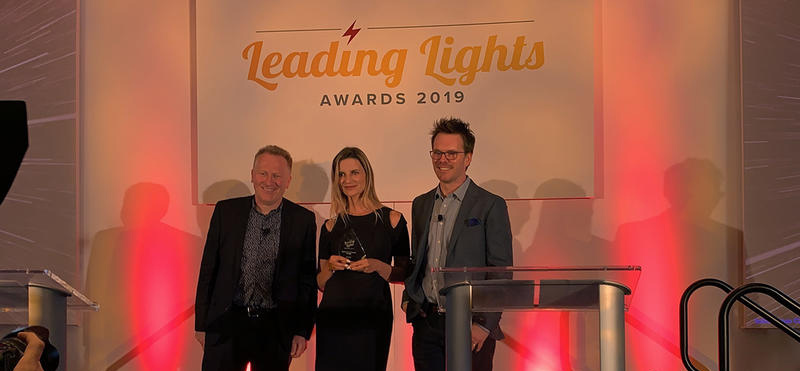 Enabling 
Data
Driven NSP
s
At the Broadband World Forum 2019, we announced the release of CUJO AI Lens, an AI-powered analytics solution that, for the first time, gives operators an aggregated, dynamic and near real-time view into the way their customers utilize home and business networks. Shortly after the launch in October, Lens caused great traction from clients and partners.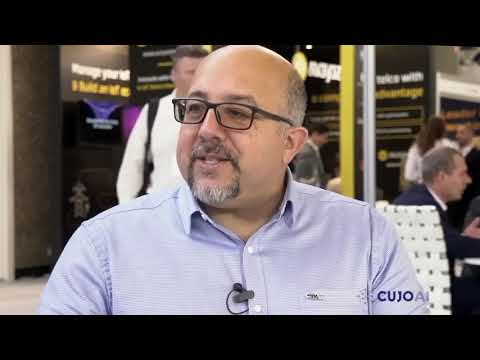 Unprecedented Scale
In October 2019, the rocketing number of connected devices protected by CUJO AI has passed the threshold of over half a billion connected devices secured within more than 20 million households. Today, CUJO AI covers the largest inventory of devices in the world with the broadest ability to detect, categorize and protect.  
Global Telecoms Awards: Highly Commended Security Solution of the Year
In November, we were acknowledged as Highly Commended in the Security Solution of the Year category at the 7th annual Global Telecoms Awards (GLOTEL Awards). The Global Telecoms Awards, organized by Telecoms.com, have fast become the premier event recognizing innovation and excellence from any company involved in advancing and transforming today's telecoms industry. We are proud to be recognized together with industry giants such as SK Telecom, Telefónica, Vodafone and BT.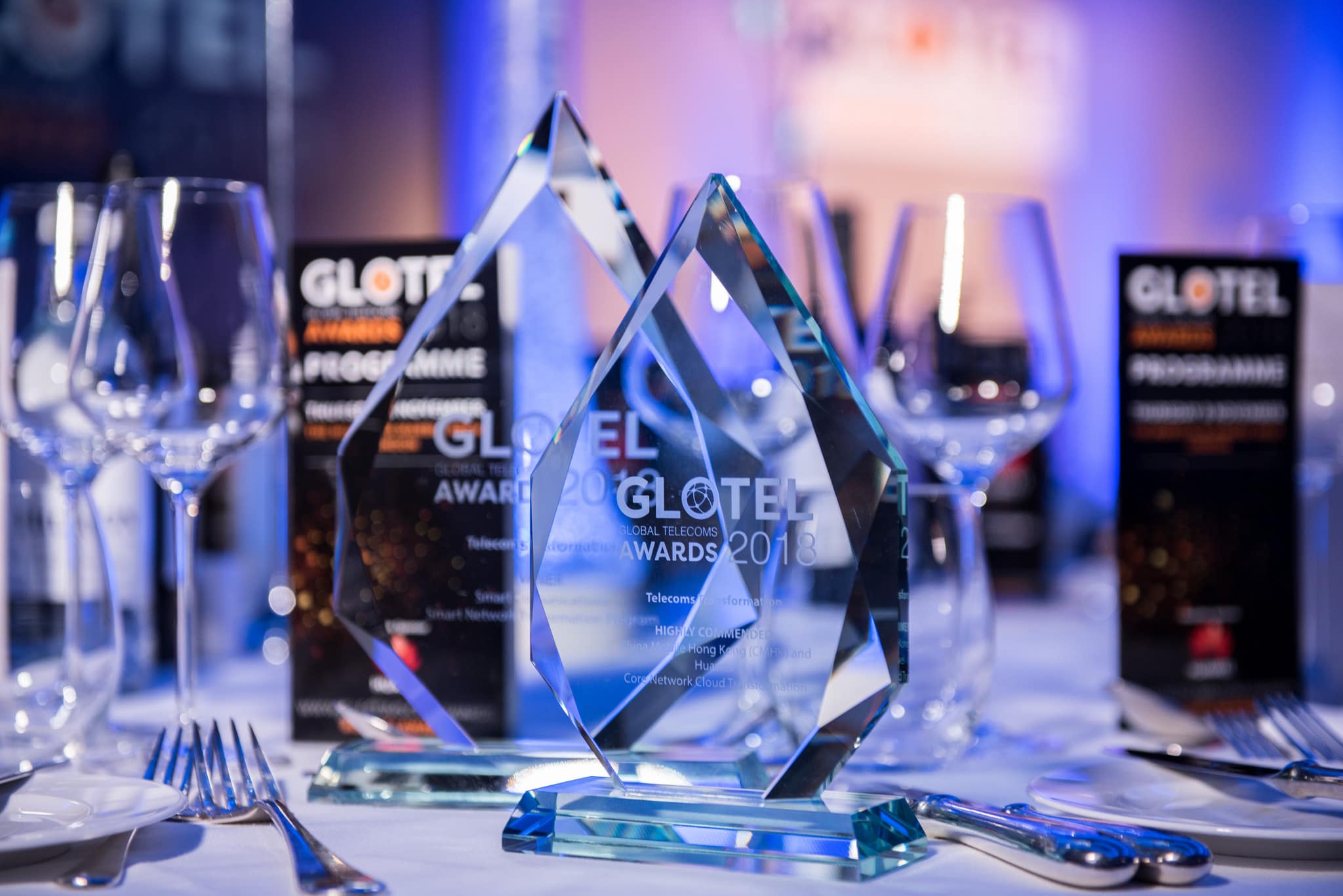 Launching CUJO AI Incognito, the Next-Generation Privacy and Tracking Protection
In February 2020, we announced our new AI-powered solution for network operators. CUJO AI Incognito leverages Artificial Intelligence (AI), Machine Learning (ML) analysis, and real-time traffic classification to evaluate privacy threats in the data flow and then block elements of it to provide the best possible privacy protection. 
CUJO AI Wins the BIG INNOVATION 2020 Awards
In March, we were thrilled to win the Leading Innovation prize the 2020 Big Innovation Awards. The Business Intelligence Group picked CUJO AI platform as the winner for bringing new ground-breaking Digital Life Protection solutions to the market. 
Gold Trophy in the Edison Awards 2020
In April, CUJO AI Lens won the Gold trophy in the Innovative Services category of the Edison Awards. Being evaluated as the best nominee by over 3,000 senior business executives and academics from across the globe – the Edison Awards Committee – is a great honour.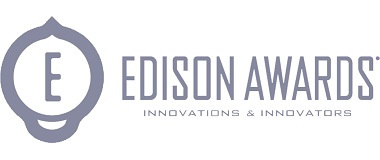 Started in 1987, The Awards are named after inventor Thomas A. Edison and symbolize the persistence and excellence in innovation personified by him.  
Onward and Upward
As we celebrate the fifth birthday of our company, we wish to express our gratitude to our clients, partners, our team and everyone who supports us. Thank you for being a part of our exciting journey.